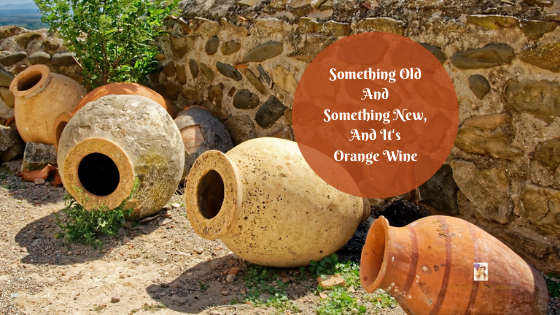 Why is it called orange wine and what does it mean
Orange wine has been rising steadily in popularity during the last several years. It might still be considered by some as a trend only but for most wine lovers it is a winemaking method that has returned to stay. Why is it called orange wine and what does it mean?
Does it have anything to do with Holland and their national color? Perhaps it is the Dutch national wine?
Does it have anything to do with oranges? Is it a fruit wine?
Well, it is a clear NO to all of these questions.
Let us dig a bit deeper into the concept of orange wine.
The creation of a name – the creation of a movement
Orange wine is often also called amber wine and it essentially means that it is a wine that has undergone maceration on the skins. Many would probably say that orange wine is not always an ideal name for this kind of wine because macerated wines are not always orange. Certainly, it is a very catchy name and it has helped to gain momentum in the wine world for this category of wine.
Orange wines are made mainly with white grapes that undergo fermentation together with the grape skins and sometimes even the stems to get further complexity and structure. As you may have noticed, orange wines are vinified as if they were red wines. The maceration process together with the skins can go on for some days, weeks, or even months depending on the end result you want to achieve. The white wine gets a deeper amber color from the skins, gains more complexity in flavors, and becomes slightly tannic.
When it comes to Pinot Grigio it has found its traditional expression with a ramato (copper) color thanks to the maceration process on the skins. The skin of the Pinot Grigio grapes actually has a copper-like hue that comes out with the fermentation on the skins.
So why this interest in orange wines now?
In 2004, the term was invented by the wine merchant David A. Harvey of the UK importer Raeburn Fine Wines, when he was working at Frank Cornelissen winery on Etna in Sicily. He has mentioned in the article The Legendary Mr. David A. Harvey – Origins of Modern Usage of Orange Wine on the blog T-A Passions, LLC, that it was during the period of the making of Cornelissen's Mongibello Bianco No.1, and while also tasting many macerated white wines together, that he came up with the term 'orange'. It seems like he had no clear intentions with it but that it was more to find a word to use when talking about this type of wine.
Since then it has become the name that is used for these wines referring to their amber color. Orange wines have also a bit like natural wines turned into a movement. But then is not orange wines per definition natural? So perhaps it is sort of the same movement?
Orange or macerated wines are probably for the most part natural or at least produced with organic or biodynamic farming methods, as the juice is doing the fermentation together with the grape skins. The substances in the grape skins go directly into the juice. Think of the pioneer Josko Gravner in Friuli or Foradori in Trentino that are biodynamic in their farming practices. Many wine producers in the Vin Natur association are also producing macerated white wines, including President Angiolino Maule himself.
The English wine writer Simon J. Woolf who is a passionate spokesperson for orange wine has even called it an orange wine revolution in his recent book Amber revolution. (See the book review by Tamlyn Currin on Jancis Robinson's website.)
An old wine making method back in use
The technique of letting the grape juice for white wine macerate together with the skins is nothing new. It is a technique that is considered to date to the 6th millennium B.C in Georgia. There, they let the must ferment together with a mix of skins, seeds, and stalks in large pottery vessels, so-called kvevri, that were buried into the ground for several months. It is also a way of making wine that has existed since always in the Italian countryside, where farmers let the wine macerate for a period on the skins. Perhaps these methods have their origin in the Etruscan era in Italy.
During the Roman period, apparently Pliny the Elder talked about white, yellow, red, and black wines where the 'yellow' is taken to correspond to macerated white wines.
Fast-forwarding to recent times, the amber, or orange, wine movement got re-evaluated some 20 years ago by a group of wine producers in Friuli on the Italian-Slovenia border with Joska Gravner at the forefront. He decided to leave the use of international grape varieties, technology on large scale in the wine cellar, filtrations, aging in barrique, etc. behind him in favor of as little interventions as possible to the wine.
The orange wine market
As mentioned above, the drinking of orange wines has become a real movement, a lifestyle, and for some almost a new religion. There is still not much statistical data about the orange wine consumption but it is considered to appeal to the Millennials as they like to try new things. In the recent article Everything You Wanted to Know About Orange Wine—But Were Too Afraid to Ask by Julekha Dash in the Robb Report, it is said that the sales of orange wines went up with 27% during the first half of 2020 compared 2019 and 2018. This number might be true even if there is no clear link to the source other than mentioning Nielsen, i.e. the Nielsen report.
Simon J. Woolf mentions that orange wines have specifically been a hit in Japan and in Scandinavia. This can be a result of these countries, at least Scandinavia, being more recent wine-drinking countries and as such being less tied to denominations, regulations, and conventional ways of choosing wines to drink. However, it might also be as simple as the wines being very enjoyable.
What about regulations and denominations for orange wine?
So far it seems that only South Africa and Ontario have acknowledged orange wine as a category of its own while there are no definitions or denominations for orange wines in Italy, France, or other countries. However, the re-evaluation of macerated wines is still a fairly recent concept so let's see what happens in the future.
Do you have a favorite orange wine?  Let us know in a comment.
If you are interested in a wine tasting or want to tour our estate and winery, contact us for more information or check out our wines available online for you to enjoy at home.
Written by Katarina Andersson.