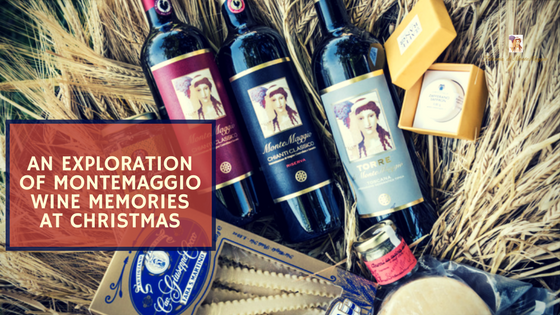 A Tribute to our Wine Influencers, Writers & Guests
Soon it's time to feast on Christmas food, open presents, rock around the Christmas tree, and perhaps share wine memories. And sip on lots of good wine, right? However, there are still some days before we enter the true holiday mode.
We wanted to take the opportunity, to sum up, the last year a bit, the people we met and who visited Fattoria di Montemaggio. To be able to thank a set of wine writers and wine influencers for their visits, kindness, and generosity in writing about Montemaggio, we wanted to direct the spotlight on them this time. Some of them also participated in our vertical wine tasting organized at Vinitaly earlier this year. Read more in 10 Vintages of Fattoria di Montemaggio in a Vertical Wine Tasting at Vinitaly 2017.
Montemaggio Memories & Christmas Pairings by our Wine Writing Friends
We could not include all of the wonderful people and, therefore, we ended up with a group of five wine writers. The group consists of four women and one man. Not bad for him, right? LOL They will be presented in a random order without any priority according to followers, fame, or other.
We asked them to share their experiences of Fattoria di Montemaggio with us all and then to pair one of our wines with a Christmas dish of their choice. In this way, we add a bit of more Christmas atmosphere to this article.
We asked them the following questions:
1) Tell us about a memory/your best memory you have from visiting Montemaggio or tasting our wines?

2) With what Christmas dish would you pair one of our wines? And why?
The questions will be answered in this order below by each Montemaggio wine friend.
Gina Martino Zarcadoolas
Gina Martino Zarcadoolas is a recipe developer, wine enthusiast, world traveler, and founder of the blog Foodie Winelover. She has built a reputation on social media, where her followers enjoy her food, wine, and travel stories. Her eclectic cooking styles and culinary creations are influenced by her multicultural background and travel abroad. Gina is currently writing a cookbook that will include food cultures, wine pairings, and her travels.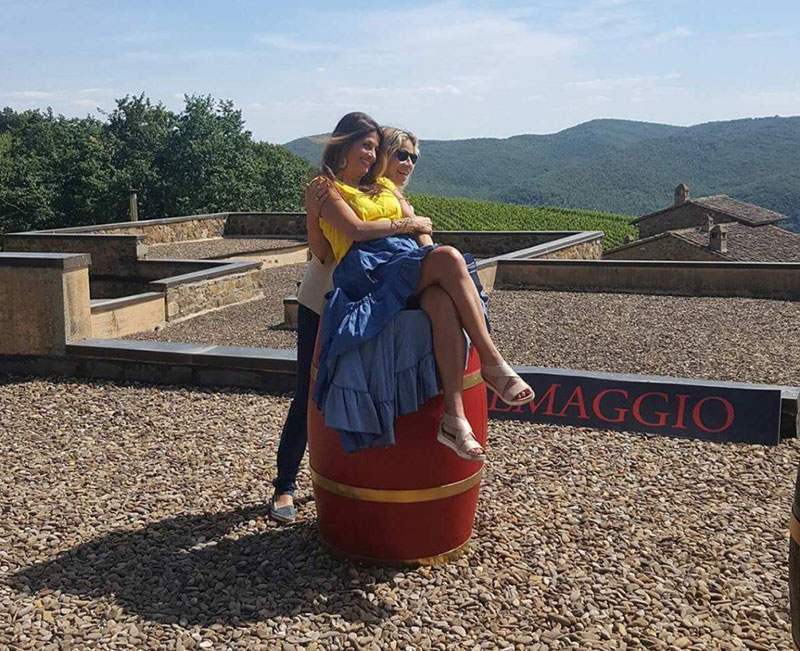 My best memory this past summer was when I visited Montemaggio, a boutique winery. I was blown away by its breathtaking views and the well-maintained grounds. I was delighted to meet Ilaria, the winemaker, who's very knowledgeable in the world of wines. Her passion and hard work shine through her magical vineyard, and it shows in the end result. Ilaria takes great care of her vines to ensure the highest quality wines. The wine tasting part was fun in the company of fabulous friends. I shall return as I want to spend more time with Ilaria.
I would pick a delicious lasagna(e) because I usually cook for a crowd, and any of your Sangiovese based wines would pair lusciously with the sauce. It would stand up to the acidity of the tomatoes, and work harmoniously. Merry Christmas!
Lynn Gowdy
Lynn has the blog Savor the Harvest. She used to be a Director of National Accounts and Product Manager for a managed health care company based out of Chicago. While there, she took wine classes for fun, then when relocated to California for work, enrolled in the University of California Davis extension program for wine studies. She most recently worked for Covered California implementing the Affordable Care Act. Although one of her most rewarding jobs, the pull of wine was stronger.
Late 2015, she relocated to Bordeaux, France with her husband to "pull out all plugs". She is WSET Level 3 certified, a French Wine Scholar through the Wine Guild, and is pursuing an Italian Wine Scholar certificate.
When not drinking wine, you can find her on a bicycle, hiking, cooking, or spending time with her husband, family, and friends.
An extensive first experience tasting Montemaggio wines, I remember each one. From 100% Merlot to very old Chianti Classico and Riservas, their freshness and fruitiness stood out. This was at VinItaly 2017 in Verona with a group of people interested in Italian wines. The quality of the wines, along with their reasonable prices were astounding. I left knowing I wanted to introduce Montemaggio to friends and have done so several times since!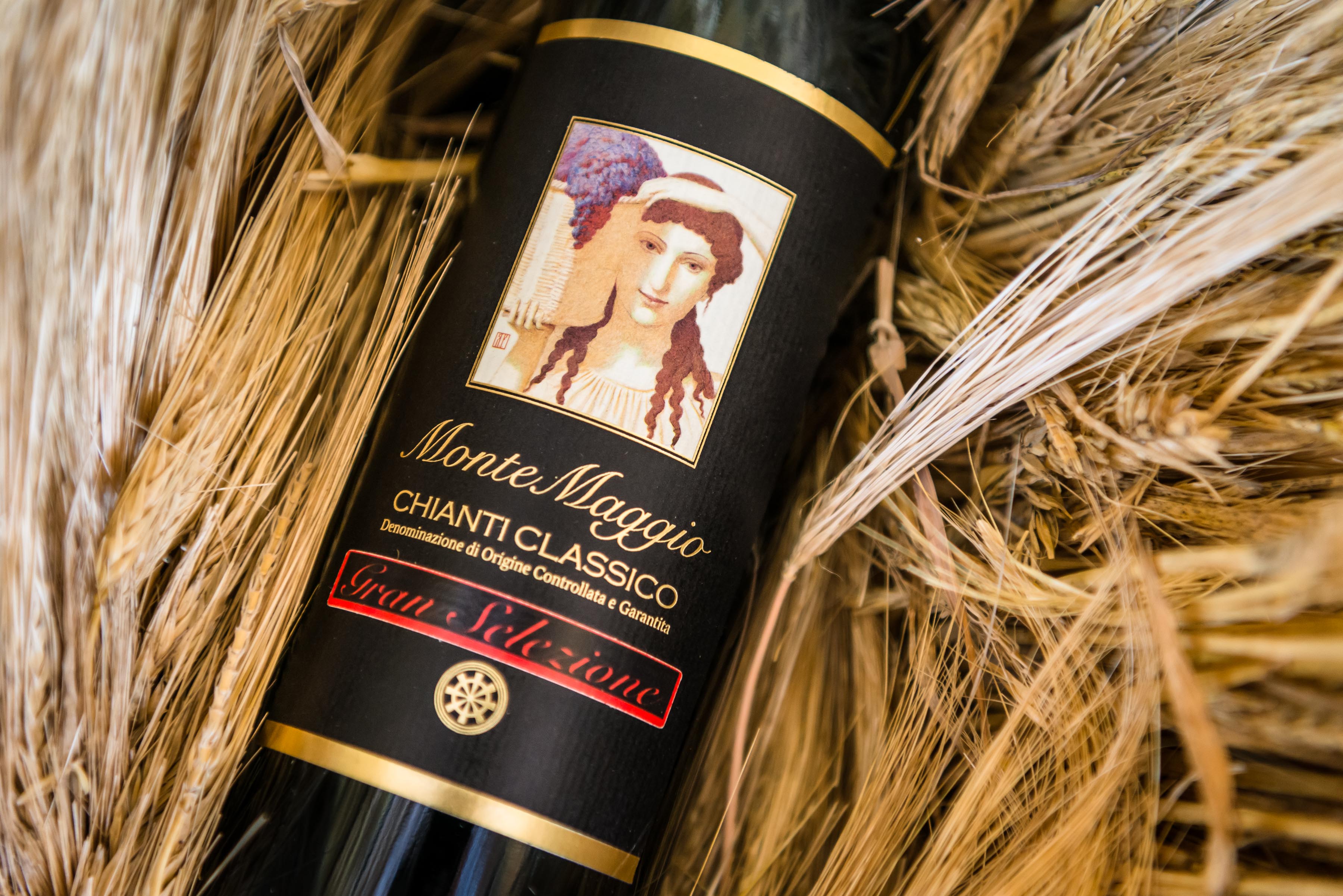 I'm not a traditionalist when it comes to the holidays and food, preferring non-standard items. With the Montemaggio Chianti Classico, I would serve a roast leg of lamb or boar ravioli in a light tomato sauce. (if I had access to boar, I'd make them myself!). Both types of meat are a bit stronger having a savory, earthy side. They complement the acid structure of Chianti Classico, cutting through it yet allowing the fruitiness, and savory, juicy notes of the wine shine through.
Morris Lazzoni
Morris is an Italian wine blogger and sommelier based in Carrara in Tuscany. He not only writes but also teaches introductory courses to wine, advises restaurants for their wine lists, acts as a brand ambassador for some wineries, and much more. He is often traveling around in Tuscany and elsewhere to attend different wine events. His wine blog is Vino per Passione.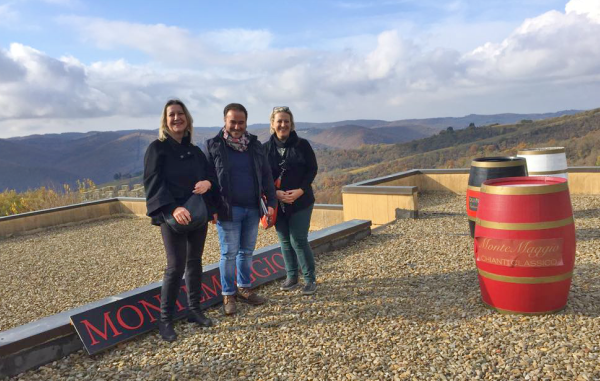 What strikes me about Montemaggio is how they differentiate themselves in comparison to the neighboring areas, due to the altitude of the hills as well as the particular shape of the vineyards. At Montemaggio you enter into an atmosphere with an attention to detail in every sphere, all from the aesthetic care of the estate buildings and the garden to the farming and wine-making techniques. Every aspect of Montemaggio is cared for down to its smallest element.

The wines indeed reflect this philosophy where they distinguish themselves for being pure, straightforward, and elegant. These are traits that you find in wines that have been researched with a clear thought behind already before they were produced. 

The Sangiovese matures, just as the tradition wants, in big barrels that attenuates and smoothens out the often a bit tart character of this native grape to Tuscany. The common denominator in all the Montemaggio wines is the elegance which is paired with an exact consciousness of being able to compete with the very best wines worldwide.

At Montemaggio they produce wines that are launched on the market much later compared to other fellow wineries but do not get alarmed by this: to have a Chianti Classico 2012 or a Riserva 2010 in front of you does not mean that you need to scratch your head in despair to find a perfect pairing. It is precisely the long maturing and refinement in the bottle which, in fact, is longer than the general average in Chianti, and makes the wines smoother and more velvety. It furthermore gives them body and structure which is what allows them to be paired with multiple dishes that you might not have thought possible. Do you want to be surprised?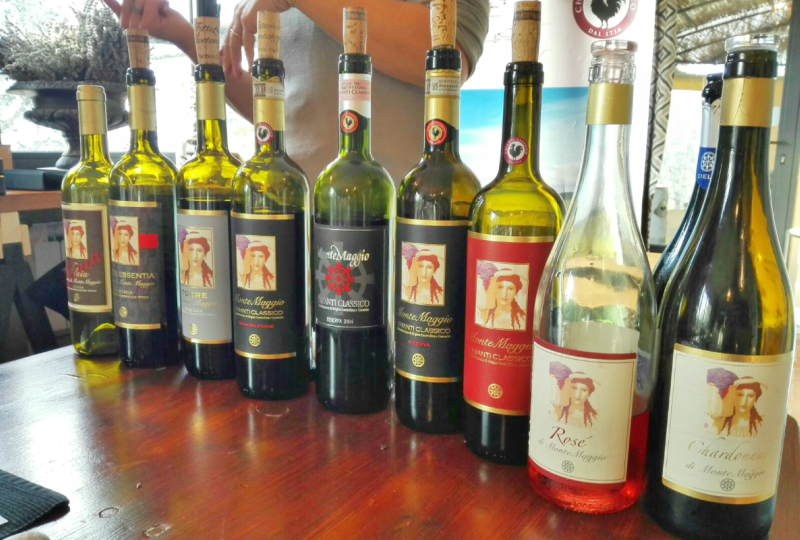 Did you know that a Chianti Classico 2012 actually can be paired with a baccalà alla livornese (codfish) without creating friction? I strongly believe that the tannins together with the fruity notes and the good evolution of the wine in question, which makes it fresh, work well with the oily and aromatic traits of this dish. If you do not want to push it that far, you can try this wine with the classic cotechino (pork sausage) with lentils: in this way, you will also discover how the most traditional of Italian Christmas dishes will immediately create a harmony with the Montemaggio Chianti Classico wine.

Do you want yet another example? Then why don't you try their Chianti Classico Riserva 2010 with Tuscan game meat? Would you not want to treat your guests at Christmas with polenta and a wild boar stew? You will notice how the wine finds an excellent expression together with this dish, thanks to its aging and almost velvety tannins. There are, of course, many other types of meat that can be paired with this Chianti Riserva, such as pigeon stuffed with chestnuts and baked in the oven. This is an oily, aromatic, and quite a spicy dish. However, whatever game meat you choose will surely pair well with these first-class wines.
Angela Santarelli
Angela is a wine, food, and travel writer with a focus on all that is Italian. Her wine certifications include Italian Wine Specialist, WSET Advanced, and Sommelier. You can find her on Instagram at Constant Wining and her blog is launching soon.
After an idyllic drive through the winding roads of Chianti, we passed through the gates of Montemaggio to be greeted by Ilaria, the Estate Manager. She gave us a very informative tour of the vineyards and the wine cellar, as well as the winery's organic garden. Lunch was next, under a breezy pergola with a seemingly endless view of row after row of Sangiovese grapes. Our tasting was first accompanied by a salumi and cheese course followed by a wonderfully delicate dish of homemade papardelle with zucchini and their blossoms, basil, stracchino and a drizzle of Montemaggio olive oil. This pasta dish went especially well with the rosé of Sangiovese, which I was tasting for the first time. Perfection on a hot summer day!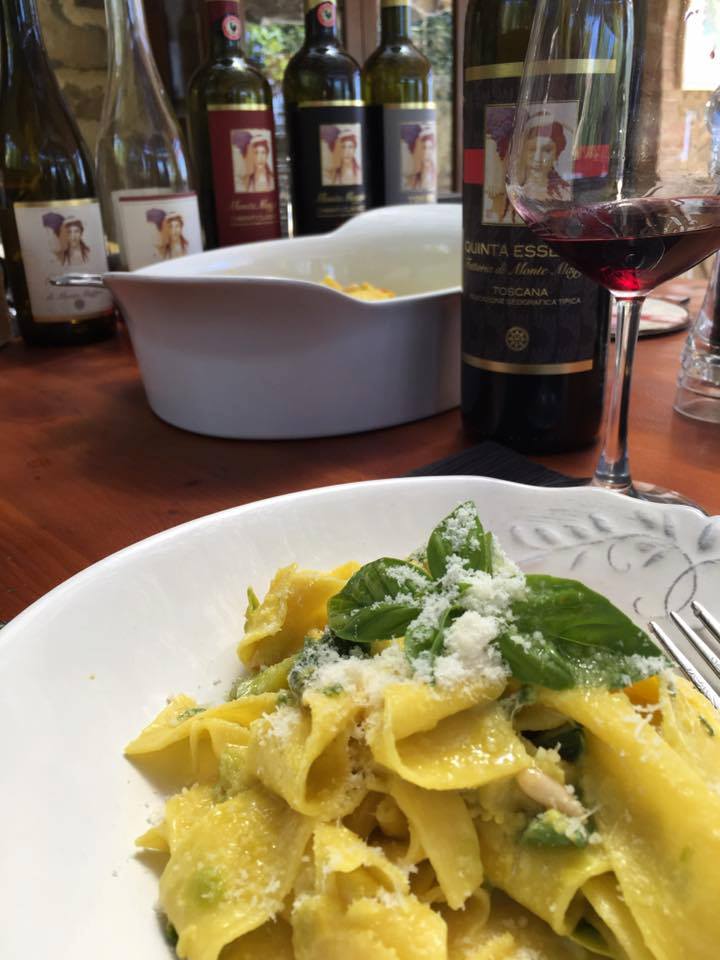 My first go to is Italian wine for special occasions. Holiday dinners in my home always begin with an antipasto of Italian salumi, cheese & olives and my choice of pairing this year will be the Montemaggio Chianti Classico. The red fruit and bright acidity is a great balance against the richness of the meat and cheeses. This year I will serve pork tenderloin with a rosemary, pepper and garlic rub as the main dish for Christmas Day. The Montemaggio Chianti Classico Riserva is an ideal pairing with this dish, the intense earth and spice in the wine will certainly complement the seasoning. I'm looking forward to introducing these wines to my guests for I am certain they will enjoy them.
Li Valentine
Li Valentine is the founder of The Wining Hour, Inc., boutique and #WiningHourChat. She is a lover of all things wine, Italian, and travel. Always jetset. She writes about wine at TheWiningHour Blogspot. You can find her on all social media as @TheWiningHour.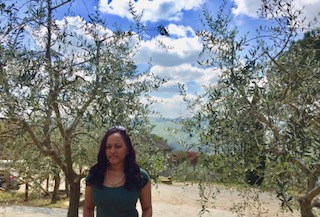 Although I have had quite a few experiences with Mongemaggio wines, one of my most memorable times would be the Montemaggio Vertical tasting at VinItaly. I was able to explore and compare so many vintages of their Chianti Classico and of my favorite…Torre. Ilaria kept them coming-wine after wine. I was very impressed with the quality of the wines I tasted.
Any holiday would be complete when pouring Torre di Montemaggio. Torre was a big surprise when I first tasted it, and it keeps on surprising me. 2003 & 2007 are divine. I would pair Torre with my delicious porterhouse steaks.
We Wish You a Merry Christmas
There were many wonderful memories and inviting wine and food pairings shared here. We are happy to have been able to share Montemaggio and its wine producing tradition with so many people this year. It is heartening to read the all the lovely stories from our wine blogger friends about Montemaggio. We especially want to thank Gina, Lynn, Morris, Angela, and Li for the lovely contributions and helping us to put together this article.
Merry Christmas & Happy New Year To You All 
Written by Katarina Andersson.