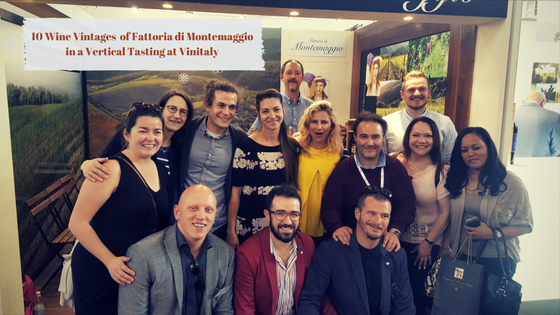 Fattoria di Montemaggio presented 10 different vintages in a vertical wine tasting they organized at Vinitaly 2017. It took place in the stand of Fattoria di Montemaggio and it was put together for a small group of selected wine bloggers and influencers. This was one of the core activities of Fattoria di Montemaggio during the Vinitaly days. We will tell you all about it below.
Tracing the history of Vinitaly
It all started in September in 1967, when this event was called the Giornate del Vino Italiano. In 1978, Vinitaly got an international stamp by opening for foreign wineries to participate. In 1980, the date for this trade show was changed from early autumn to early spring.
Different developments and internationalization initiatives then continued during the 1990s and would intensify even more during the early 2000s. Vinitaly started going on tour to the US, Japan, Russia and other countries in the early 2000s. Vinitaly International Academy was launched in 2014 as a crucial step to further the education about Italian wine.
In 2016, Vinitaly celebrated its 50th anniversary thus marking even more how important it is as an event on the wine world scene.
The Vertical Wine Tasting of Fattoria di Montemaggio
Fattoria di Montemaggio had decided to organize a vertical wine tasting event for a small group of wine bloggers and influencers at Vinitaly. The stand did not allow for any larger group of people, so it turned out to be a very cozy and fun tasting exploration of some older vintages from Montemaggio.
The owner herself, Valeria Zavadnikova, was present at the tasting, Ilaria Anichini, the estate manager lead the wine tasting, and the cellar manager Denis Redzic helped with the organization.
The group of wine bloggers invited included:
Li Valentine aka TheWiningHour who is an influencer and wine blogger from New York. She is the founder and host of #WiningHourChat that airs every Tuesday at 9pmEST on Twitter. She had brought her friend Millie.
Adriano, Matteo, and John who are the guys from Cantina Social. They are four wine bloggers (Italian and American) from Turin in Piemonte. They were streaming live during the vertical wine tasting at their Instagram account cantinasocial.
Lynn Gowdy, an American wine blogger who lives in Bordeaux with her husband Mark Gowdy, who studies oenology there. Mark also attended the vertical tasting. She has the blog Savor the Harvest where she writes about different wine adventures.
Cat Taylor, a Canadian wine blogger who also studies in Bordeaux together with Mark Gowdy, as mentioned above. Her blog is called When Wine Sings.
Morris Lazzoni from Viareggio who has the blog Vino per Passione where he writes about his wine experiences in Italy.
The Vintages
Ilaria Anichini, the estate manager at Fattoria di Montemaggio had chosen ten different wines for this vertical tasting.
Chianti Classico di Montemaggio DOCG 1999, 2007, and 2011
The Chianti Classico di Montemaggio DOCG is a 95% Sangiovese and 5% Merlot wine that is matured in a mix of French and Slavonian oak barrels for 24 months. Then the wine lay in the bottle for at least one year.
Below you can listen to Ilaria describing the work carried out at Fattoria di Montemaggio and the typical characteristics of their wines, especially the Chianti Classico 1999 and 2007.
Live from our Vertical Tasting #MontemaggioVinitaly2017 at #Vinitaly2017 starting with #ChiantiClassico 1999 https://t.co/cIP0JJWnXh

— Montemaggio (@Montemaggio) April 10, 2017
Montemaggio Chianti Classico Riserva DOCG 1996, 2004, 2006, and 2007
The Chianti Classico di Montemaggio Riserva DOCG is also a 95% Sangiovese and 5% Merlot wine that is matured a bit longer, 28-36 months, in a mix of French and Slavonian oak barrels. Then the wine is refined for more than one year in the bottle.
In his article Vinitaly 2017, ve ne racconto delle belle, Morris from Vino per Passione, talks about the Riserva 1996 and its intense and complex aromas. He concludes with the following words:
Questo 1997 dimostra i limiti della tipologia a livello di invecchiamento. Il Chianti Classico può permettersi di dire la propria anche oltre i 20 anni, così come i vini di Montemaggio sanno affinare senza perdere la loro integrità e personalità.
Furthermore, he sums up the characteristics of the Riserva 2007 in a beautiful way:
Ha già una buona morbidezza, così come il tannino sta ben in piedi, ma con una connotazione erbacea ancora evidente. La finezza gustativa comunque c'è e non viene mai messa in discussione, cosi come la persistenza che è sempre a buoni livelli di durata.
Torre di Montemaggio IGT Toscana 2003, 2006, 2007
Torre di Montemaggio IGT Toscana is a 100% Merlot wine. The Merlot at Fattoria di Montemaggio has absorbed the characteristics of the soil in Radda thus becoming a Merlot with a unique complexity.
Li Valentine, in her article The Marvels of Montemaggio Vini #Organic #Wine, describes the Torre di Montemaggio wines in a lovely way. She especially liked the 2007 vintage at the vertical tasting. Below, she is referring to the Torre di Montemaggio 2012 that she tasted when she visited Montemaggio just a few days after #Vinitaly2017. (When this article was published, all the bloggers had not yet written their reviews of the vertical tasting.)
 Ahhh, Torre… Where do I begin?

[…]

With its

[…]

color, Torre is intoxicatingly aromatic, with baking spices, vanilla, red berry fruit and anise on the nose.

[…]

I truly did not expect to enjoy this wine as much as I did. My cellar is not exactly stacked with Merlot, yet, Montemaggio's Torre is a game-changer.
Cat Taylor has done a fine recap of the Fattoria di Montemaggio vintages in her article The Final Countdown below.
What I'm loving about these wines is how gracefully they are aging. There is a lot of complexity and elegance in these wines – earthy/forest floor (ah, there's the forest smells!), spicy, even meaty aromas, well-balanced with the tannins.
Going back to the beginning with Rosé di Montemaggio
To round up the vertical wine tasting and 'freshen up' a bit, everyone got to taste the Rosé di Montemaggio 2015 which is a 100% Sangiovese wine. Here you can hear all about this fresh and fruity rosé wine.
Fattoria di Montemaggio would like to thank Li, Millie, Adriano, Matteo, John, Lynn, Mark, Cat, and Morris for having taken the time to participate in the vertical wine tasting at #Vinitaly2017.
A Post-Vinitaly stroll through the vineyard with Li, Millie, and Amit
As a more bucolic conclusion of this article, let's talk about the visit of Li, Millie, and Amit to Fattoria di Montemaggio on Good Friday. The tour of the vineyards, the kitchen garden, and the wine cellar with Ilaria was a perfect start to the Easter holiday. During the light lunch, Li, Millie, and Amit had a second full immersion into the different wines that are produced at Montemaggio. In that way, they also got to taste the Ilaia di Montemaggio 2012 which is a 100% Pugnitello wine.
Take a closer look at the vineyards here:
Let's start the week with a #throwback to last Friday in the #vineyard ☀️🌱🍇🍇 @TheWiningHour @thewinemonk @ChrisEpicure @SorchaHolloway pic.twitter.com/nClLh7cjbW

— Montemaggio (@Montemaggio) April 18, 2017
We hope you enjoyed this recap of the vertical wine tasting during #Vinitaly2017 and a brief look at how the wines of Fattoria di Montemaggio has a very good aging potential. Read more about the wines HERE.
Written by Katarina Andersson.