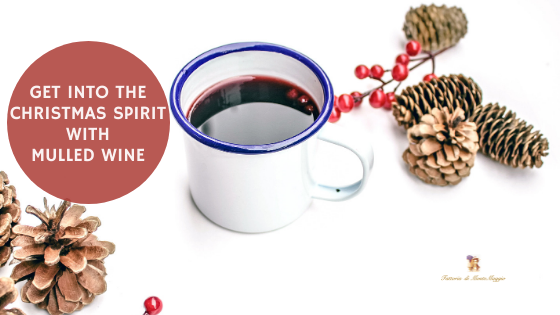 Mulled Wine to Enjoy the Holidays
The Christmas holiday season is a fun and festive time of year. We decorate our houses, create gift lists, plan parties or get together to include planning for food and beverages which may include favorites such as eggnog or mulled wine, you know, all the things that make the holidays so enjoyable.
This holiday months are typically packed with Christmas dinners or festive lunches at work, parties with clubs or associations you may belong to. There are Secret Santa gifts at your workplace, Christmas plays and parties at your children's school, going to Christmas craft markets on the weekends, and so much more to help you enjoy and absorb the entirety of the holiday season.
At all these occasions, you probably enjoy some Christmas cookies and a cup of…that's right… mulled, or spiced wine.
Where does the tradition with drinking mulled wine come from, though?
Well, we are here to tell you all about it and give you a yummy recipe of mulled wine that is easy-to-prepare for the holidays.
The origin of mulled wine
The drinking of warm wine with different kinds of spices dates to Ancient Greece, where hippocras was apparently their version of 'mulled wine'. It was a way to not let anything go to waste, not even the wine.
The Romans were of the same praxis to not let anything go to waste and, therefore, also added spices to heated wine to make it nicer to drink. Being the fervent travelers that they were, the Romans brought the custom to boil wine and add spices with them to other parts of Europe that they conquered.
In a document from the 1st century AD, De re coquinaria (On the Subject of Cooking), a collection of recipes has been found and the author is thought to have been a certain Apicius. He was a Roman food lover during the reign of Tiberius. He writes about a recipe where wine and honey are boiled together and then spices such as pepper, saffron, and dates are added.
From the Medieval Ages and onwards, spiced wine became more and more popular all over Europe. Even if the Romans had brought the custom and recipes with them, the word 'mull' as in 'mulled' can only be traced back to the early 17th century with a written reference as meaning 'to heat, sweeten, and flavor with spices'. The origin of the word is not known, it is believed it might derive from the Dutch word 'mol' that is a sweet beer.
In the 19th century Victorian England, mulled wine became a sort of trendy drink during Christmas time. Even Charles Dickens wrote about a mulled wine drink called the Smoking Bishop in his A Christmas Carol. It was a mix of port, red wine, lemons, oranges, spices, and sugar.
In Germany, it is called glühwein and is a typical Christmas drink. In Alsace, it is a tradition to sip on glühwein while walking around at the Christmas markets. In Scandinavia, it is called glögg in Sweden, and gløgg in Denmark and Norway. In Scandinavia, you generally add a splash of vodka, rum or brandy to the warm wine with spices. Small bowls of almonds and raisins are served together with the glögg to add it after your own pleasure to the wine, or to munch on while drinking the mulled wine.
As you can see, mulled wine is the perfect Christmas drink to sip on while getting cozy on the sofa in front of the fire. Or, why not as an aperitif at the family dinners during the Christmas holidays.
Are you eager to start making your own mulled wine now?
Here is a recipe that will take your Christmas holidays with a storm.
Mulled Wine Ingredients
1 750 ml bottle of red wine (Choose a red wine with a body but not too flavorful. Our Chianti Classico could be a good choice.)
2 strips of lemon zest
2 strips of orange zest
2 cinnamon sticks
8 cloves
2 star anise
4 juniper berries
Nutmeg
4 tbsp of sugar
Mulled Wine Method
Pour the red wine in a large pan and cook it on low heat. Add lemon zest, orange zest,  cinnamon sticks, star anise, cloves, juniper berries, and nutmeg after 1 minute. Add the sugar after 3-4 minutes. Continue to cook on low heat for 10 minutes.
Remove the pan from the heat and let it settle for 30 minutes – 1 hour.
Reheat without boiling before serving. Pour it into mugs or glasses and garnish with raisins and peeled almonds.
Read more about our various wines to decide which one to choose for your mulled wine preparations or that would make a great pairing with your Christmas feast.
Keep in mind that we also create gift baskets as well as other products made from by-products of wine and other natural ingredients such as Grappa and beauty products.
Written by Katarina Andersson.
Sources:
The Long, Storied History Of Mulled Wine in Vinepair
Wikipedia