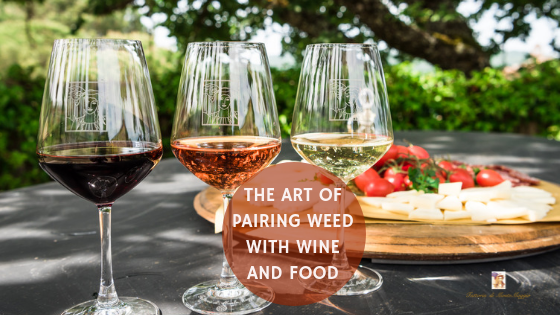 The legalization of marijuana for medical and/or recreational purposes is a hot topic in many countries for several years now. Marijuana, also known as cannabis, is even starting to become a gourmet product that you, just as wine, can pair with food to heighten the experience. Indeed, the American Jamie Evans is probably the first Herb Somm offering courses and tasting events to promote the use of cannabis to enhance aromas and flavours. In Colorado and Las Vegas, Cultivating Spirits is a company offering cannabis dinners and tastings as well as cannabis tours.
We'll take a closer look at the legalization of cannabis and its use as a gourmet product in Italy and USA.
Cannabis for Medical and Recreational Purposes in Italy and Beyond
Marijuana is the psychoactive substance that is obtained from the dry flowers of the cannabis plant. Medical marijuana has high levels of CBD (cannabidiol) and can thus not give any stronger 'highs' while recreational marijuana contains high levels of THC, that is the compound that makes marijuana psychoactive.
The possession and supply of cannabis are in general considered illegal in most countries even though the supply of cannabis has been more or less tolerated at coffee shops in the Netherlands since the 1970s. The coffee shops need to have a supply license from the local municipality and there are only a certain number of municipalities in the Netherlands allowing such a license for the distribution of marijuana.
In the rest of Europe, the supply of cannabis is illegal unless it is for medical purposes. Italy, Germany, and the Netherlands have legalized cannabis products for medical use since quite some time and more recently, in 2018, Malta, Portugal, and the UK have followed. According to the report from Davos World Economic Forum earlier this year, these European countries can very well become the largest market in the world for regulated medical cannabis in the next few years. (See www.healtheurope.eu).
If we look outside of Europe, the use of medical cannabis was legalized by a vote in California in 1996 and today medical marijuana is legal in 33 US states while recreational marijuana is legal in 11 US states. In Uruguay cannabis has also been legal for a regulated and controlled supply in the last 5 years. In 2018, a law allowing the use of cannabis for recreational purposes entered into force in Canada. The cultivation and production can only be made by licensed companies and the distribution by government-owned bodies.
In a report in 2018 from Colorado where medical use of cannabis was legalized in 2009 and recreational use of cannabis was legalized in 2014, the illegal production and sale, as well as organized crime regarding cannabis, seem to have increased since 2014. The illegal cultivation of cannabis seems to have spiked since 2014. The road safety and hospitalization cases due to cannabis consumption have gone down during the last few years.
We are still in an early stage globally to be able to analyze and draw conclusions about the legalization, both medical and recreational, of cannabis. It will be interesting to see the results over the coming years. The medical cannabis industry is for sure going to dominate the market more and more in many countries.
Cannabis and Wine for Foodies
Have you ever heard of the title 'Herb Somm'?
Well, it does exist in the US, of course. Jamie Evans is known as the Herb Somm since she in 2017 started to focus on educational courses for how to integrate "cannabis, wine and cuisine into a healthy, sensory-based lifestyle". (See Forbes, How To Succeed In Wine And Weed: The Herb Somm Tells Her Story)
The legalization of cannabis has resulted in the leading players in the wine industry to invest in and try to integrate cannabis into their holdings. While millennials so far have not fully embraced wine they do seem to be interested and curious in trying cannabis. The best way to blend the worlds of fine wine and cannabis is considered to be a combination of both through interesting and unique food-centric pairings.
Jamie Evans, the Herb Somm, is doing just this by organizing cannabis tastings and other events where cannabis is central to the food and wine pairings. Cannabis is being treated as a gastronomic ingredient by Jamie Evans and she wants people to understand how, just like wine, the aromas and flavours of cannabis can add to the overall culinary experience of guests.
Philip Wolf of Cultivating Spirits is another entrepreneur organizing dinners and events with cannabis tastings as the main attraction. He sees cannabis as the equivalent of 'fine wine'. They bring their own chef and cannabis sommelier to set up the event and offer an unforgettable cannabis tasting experience. They also organize cannabis tours in Colorado and Las Vegas that are becoming a big thing since the legalization of cannabis in those states.
Jamie Evans, furthermore, talks about how the concept of terroir is important also in the cultivation of cannabis. She stresses that the microclimate, soil, access to water, and many other factors contribute to and determines the aromas and flavours in the various strains, i.e. varieties, of cannabis.
For the tastings, she has developed so-called aroma charts where she lists six of the most important terpenes in cannabis followed by their benefits, effects, pairings with food and wine that she suggests, etc. A terpene is a fragrant oil that can be found in plants and that gives a unique taste and smell. The terpenes in cannabis often range from woodsy to spicy to sweeter and more citrusy.
In the Wine Enthusiast article Why Weed and Wine Have More in Common Than You Think,
Jamie Evans underlines that there is just as much complexity in cannabis strains as there is in wine and she gives a few examples of possible cannabis pairings with wine and food. She takes the Rockstar and Northern Lights strains with spicy aromas of clove and cinnamon as examples and says they go well with steak, Zinfandel and Cabernet Sauvignon wine. As a general rule, she suggests pairing lighter cannabis strains with white wine and more complex and full-bodied strains with red wine.
Are you curious to try to pair weed with food and wine?
Here in Europe, you can so far find beer made with hemp, flour, and other food-related products. There are dinners and events organized in Italy, for example, where the dishes are made with hemp-based products. However, more refined events such as cannabis dinners or tasting events might so far be possible to find mostly in the US.
Did you like the article? Sign up to our newsletter before you go.
Written by Katarina Andersson.
Sources: