Label
Chardonnay di Montemaggio IGT

Region
Chianti Classico Tuscany

Wine style
This wine has a fresh flavour with notes of tropical fruits, flowers, straw, honey, spices and is very pleasant for the palate

Paired with
Goes perfectly with young cheeses, fish, seafood and light salads! White meat like poultry would pair splendidly as well!
Chardonnay di Montemaggio IGT is a white organic Tuscan wine that was made for the first time in 2010. A white wine, morbid and balanced, with a straw-like yellow color with reflections of gold. It's fresh flavor with notes of tropical fruits, flowers, straw, honey and spices is very pleasant for the palate.
Other details
Before the fermentation, grapes are manually selected in boxes and screened on the table usually at the end of August. Furthermore, grapes is delicately stemmed and softly pressed. The must obtained is clarified in stainless steel through decanting at controlled temperatures for a day. The must, subsequently, ferments at controlled temperatures in tonneaux or barrique.
When the fermentation is completed, the Chardonnay di Montemaggio is left with the yeasts for some days then decanted and put back in tonneaux until bottling. After about few months in the wood, the wine is bottled and released to the market after a little bit of aging. It is bottled with transparent glass corks to preserve its authentic taste and prevent the risk of deterioration. It is a very functional cork as it can be used for a long time.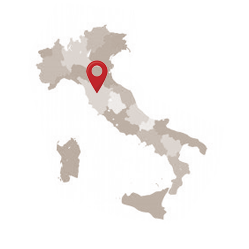 The Chianti region
The Chianti region in Tuscany, Italy, has a rich history, a reputation that has made a dramatic roller coaster ride and, ultimately, the ability to produce incredible wines with phenomenal value.
Chianti is considered the world's first bounded wine region - a title that dates back to 1716, a time when the Republic of Florence was flourishing and had a hold on much of the wealth of Central Europe.
When the wine was first produced in Chianti, documents indicate that it was a white wine. Only in 1872 was the first mention of the modern version of Chianti wine established, with a letter indicating that Chianti had to be made with at least 70% from Sangiovese, and the other 30% from Canaiolo grapes or a white grape to soften the power of Sangiovese.
The Chianti Classico appellation has some disagreement and confusion in its origin, which ultimately has an effect on the fame of the product.  The origin of Chianti Classico was born when an increasing number of producers of inferior quality began to distribute wine under the name Chianti and the boundaries of where Chianti was located became increasingly unclear.
In 1924 a group of producers came together to create the Chianti Classico Consortium in an attempt to protect the quality and heritage of the original Chianti wines. The original Chianti region - now called Chianti Classico - covers 17,640 hectares and extends from just south of Florence to just north of Siena. For reference, the entire Chianti region amounts to 177,500 acres.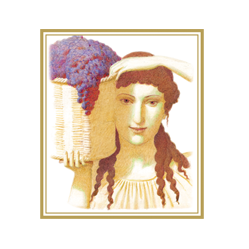 The Story Behind The Label
Fattoria di Montemaggio's mission is the result of the passion, love, and dedication of all the people that so far have worked here every day and it is also the dream come true of two women: Valeria Zavadnikova, the young owner of the Fattoria, whose passion for wine has brought her to learn everything about it and transform this passion into a real job, and Ilaria Anichini, an agronomist and the director of the winery that has worked here since 2005.
It is not a coincidence that the image and logo of Montemaggio are represented by a young Etruscan woman with a basket of grapes on her head. The idea was to create an image - a brand, that would be able to bring together all the most important values that Montemaggio holds dear: tradition, history, passion, heritage, leadership  and value of women in our society. Etruscans, being such ancient people cultivated wines all those centuries ago and lived by this fundamental principles and gave a lot of importance and liberties to women in their society to be equally important standing next to man.
As for Montemaggio, a graphic designer Marina Zimoglyad took inspiration from the painting created for Montemaggio by her husband Andrey Remnev, who is a well-known and much appreciated Russian painter.