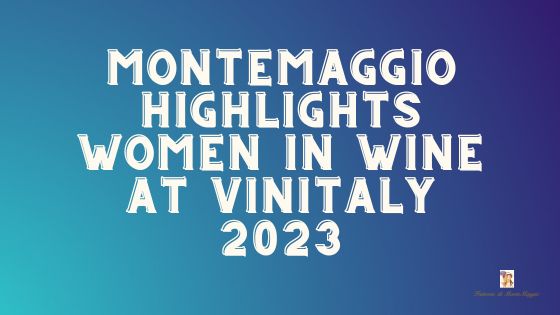 Vinitaly this year was back to its old state of glory after three years of no or limited organization. This year, Vinitaly focused very much on the incoming of international buyers to better favor the business side of the trade show. This is surely very positive for all types of wineries, especially smaller wineries such as Fattoria di Montemaggio. Furthermore, Fattoria di Montemaggio organized a mini-tasting called Women in Wine at their stand with wines from three other female producers other than Fattoria di Montemaggio. The idea was to showcase women in wine and two flagship Italian wine regions and grapes.
Continue reading to learn more.
A Restart of Vinitaly
Vinitaly this year saw an increased attendance overall with 93,000 visitors in total of which 29,500 were international visitors. This year, the presence of international buyers from 143 different countries (20% of the international visitors) was significant and in line with the aim to focus mainly on creating business relations. Approximately 1,000 of the international buyers had furthermore been specially handpicked by Veronafiere in collaboration with the Italian Trade Agency.
A majority of the international buyers came from the US followed by Germany, UK, China, and Canada. For the first time since the pandemic, there was a return of buyers from Asia, mainly from China and Japan. The Vinitaly Plus platform has developed into an important tool for setting up appointments between wineries and buyers.
On the one hand, there was a higher attendance of international visitors again that had the potential to create major business opportunities and on the other hand, Vinitaly became again an important stage for the promotion of Made in Italy products. In fact, the president of Veronafiere, Federico Bricolo, declared in a press release that their goal is to
"…build a permanent and coordinated promotional platform together with institutional partners. The aim is to attract incoming investments into Italy, on the one hand, and, on the other, to push Italian products abroad…"
Fattoria di Montemaggio surely was happy to be able to benefit from the increased number of international buyers present this year. When it comes to journalists, for example, Rowena Dumlai Giardina visited to taste the wines. She is from the Philippines originally though based in Rome. You can see one of her photos below.
Let's now talk about Fattoria di Montemaggio's tasting at their Vinitaly stand…
Women in Wine Tasting Created by Fattoria di Montemaggio
Ilaria Anichini, the Estate Manager at Fattoria di Montemaggio, had for quite some time harbored the idea to organize a tasting together with some other winery. She was especially looking for other fellow wine producers in Tuscany and Piemonte. Step by step the idea to make it into an initiative with other women-led wineries took form.
Valeria and Ilaria settled on two female vintners from two different areas in Piemonte and one in Tuscany, other than Fattoria di Montemaggio. The regions and grape varieties were only revealed at the time of the tasting at the Vinitaly stand of Fattoria di Montemaggio. The tasting was attended by the producers and a couple of importers invited by Fattoria di Montemaggio.
The two regions were, as mentioned above, Tuscany and Piemonte, and the aim was to show characteristics, similarities, and differences between two extraordinary Italian wine regions and grape varieties.
Piemonte – Nebbiolo
Tuscany – Sangiovese
The tasting showcased one Barolo Serralunga d'Alba DOCG, one Boca DOC, one Brunello di Montalcino DOCG, and one Chianti Classico Gran Selezione DOCG of the 2016 vintage from the four Women in Wine producers followed by four wines from the 2015 vintage. Below follows a presentation of the four producers.
Collaboration of Women in Wine Producers
The three wineries that Ilaria and Fattoria di Montemaggio had invited were the following:
Piemonte:
Silvia Barbaglia of Barbaglia winery in Cavallirio in the province of Novara, Piemonte.
Silvia works closely together with her father Sergio to make terroir-driven wines with a clear identity from their 6 hectares of vineyard plots. This territory – where Nebbiolo is called Spanna – is located by the foot of Mount Rosa in north-eastern Piemonte. The main appellation here is Boca DOC where Spanna (70-90%) is the protagonist followed by Vespolina and Uva Rara (10-30%). Nebbiolo finds here a different but just as unique expression as in other parts of Piemonte and Lombardia.
Bruna Grimaldi winery is located in Serralunga d'Alba in the heart of the Langhe area, Piemonte.
The winery goes back to the 1950s, but it was Bruna who in 1990 took over the farm together with her husband Franco Fiorino and brought it to what it is today. Bruna Grimaldi has 15 hectares of vineyard plots where they produce three single-vineyard Barolo DOCG wines, among others, that each in their own way gives an expression to the specific micro-climate and micro-terroir.
This is a territory where Nebbiolo reaches its fullest expression in the Barolo wines produced. Serralunga d'Alba is one of the 11 villages – additional geographical units – comprising the Barolo territory. The first Barolo Serralunga d'Alba was produced in 1992 and, in fact, the consortium was celebrating its 30th-anniversary last year.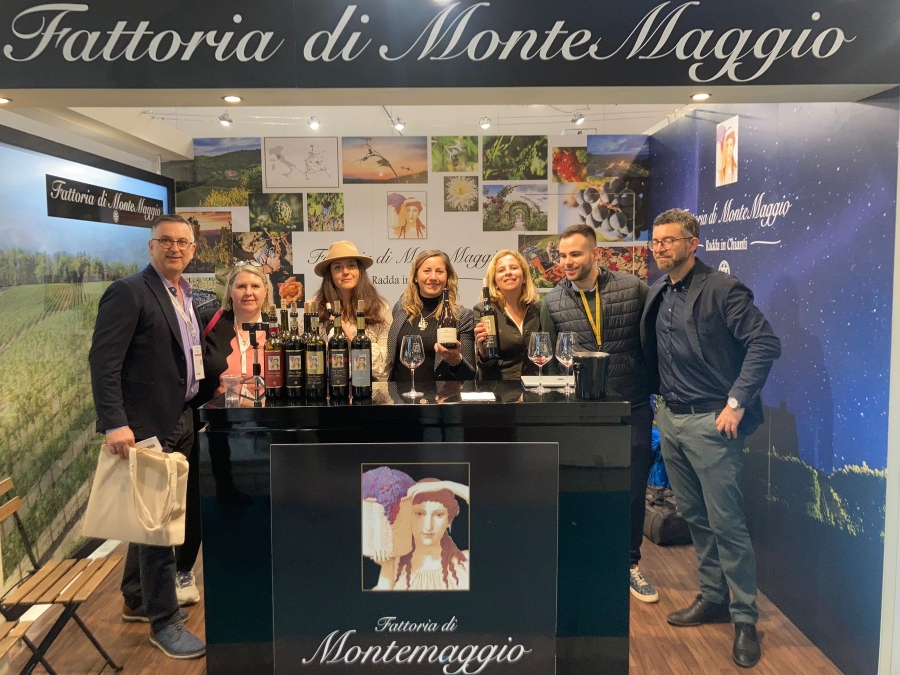 Tuscany
Francesca Vallone of Terre Nere winery in Montalcino, Tuscany.
Her father, out of his passion for wine and as a challenge, decided to invest in some vineyard plots in the Castelnuovo dell'Abate locality southeast of Montalcino in the late 1990s.
They are organically certified and take the safeguarding of nature seriously. They produce a Brunello di Montalcino DOCG, a Brunello di Montalcino Riserva DOCG, and the single-vineyard Capriolo Brunello di Montalcino DOCG.
Fattoria di Montemaggio, which took the initiative to organize this tasting, is an artisanal and organic winery in Radda, in the Chianti Classico area of Tuscany.
The estate sits beautifully at a very high altitude from 450 to nearly 600 meters between Panzano and Radda on exceptionally stony soil (galestro and alberese). It is a family-owned estate that produces very mineral and elegant wines with the philosophy to mature the wines much longer until they have reached the right moment maturation-wise to be released to the market.
Montemaggio produces three Chianti Classico wines – Annata, Riserva, and Gran Selezione Alberello – within the Radda UGA. Furthermore, they produce wines a Cuvée Brut sparkling wine, a Chardonnay wine, a Sangiovese rosé wine, two red wines in Supertuscan style, and a monovarietal Pugnitello wine. The winery is very focused on favoring biodiversity and sustainability.
After the tasting, personal chef Elena Morlacchi (participant in Masterchef 11) prepared a delicious snack with truffles from Passione Tartufi by Marco Bulleri.
Similarities and Differences Between Nebbiolo and Sangiovese
Nebbiolo and Sangiovese are two extraordinary grape varieties that have written the wine history in the two great wine regions of Piemonte and Tuscany and beyond. In the Women in Wine tasting that we have discussed above, we tasted and looked closer at four different types of wine from the two regions, namely Boca DOC, Barolo di Serralunga d'Alba DOCG, Brunello di Montalcino DOCG, and Chianti Classico Gran Selezione DOCG. They are wines from four different appellations and it may seem that they are wines very different from each other.
But what about similarities?
Ilaria says that even though they are two completely different grape varieties from two different terroirs there were indeed similarities in color, aromas, and taste. The Boca and Barolo wines had more pronounced tannins though very delicate and elegant. Francesco Garuglieri, Wine Tour Manager at Fattoria di Montemaggio, argues that for him it was very interesting to see the different expressions of Nebbiolo between Boca DOC and Barolo DOCG. The noble character of the Nebbiolo comes forth in both wines, however, he recognizes a slightly more austere trait in the Barolo. Boca DOC is, so far, the lesser-known appellation of both Piemonte wines but nonetheless significant in the piemontese wine heritage. Boca is an area around Novara in north-eastern Piemonte in continuous growth during the last decades that gives mineral and elegant wines thanks to the soil of volcanic origin (pink porphyry).
The Brunello di Montalcino DOCG and Chianti Classico Gran Selezione DOCG wines are two crucial appellations in Tuscany that both have created strong brand identities with a clear historical connection. Brunello has the strictest maturation rules according to its DOCG regulation of all the wines here with five years of aging, of which two in oak barrels, before its release to the market. Barolo DOCG wines have a compulsory aging period of three years of which 18 months in wood casks before their release to the market. Boca DOC also has a considerable aging period of 34 months of which 18 months in wood casks. Chianti Classico has a three-tier system where the Annata needs to be aged for 12 months, Riserva for 24 months, and Chianti Classico Gran Selezione DOCG for 30 months. There is no obligation to age in wood.
Ilaria concludes by pointing out that the four wines were not so distant in character from each other after all. They furthermore all have exceptional elegance and great drinkability as common traits.
Written by Katarina Andersson.