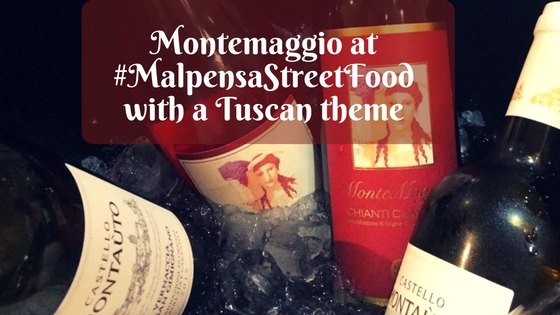 On August 2nd Montemaggio was invited to participate and present their wines at the event #MalpensaStreetFood at Hotel Sheraton Malpensa's restaurant Il Canneto. The event is organized on a regular basis to spread the light on different regions of Italy. This time, they had chosen Tuscany as a theme. The organizers of #MalpensaStreetFood are Hotel Sheraton Malpensa and Carlo Vischi. Carlo is an adviser to Grow The Planet and also has a long experience within the editorial world regarding Italian food and wine as well as using social media to showcase this to a broader audience.
Sarà che per la #Toscana ho un debole..ma stasera sono strafelice di essere qui. #MalpensaStreetFoodpic.twitter.com/hFNcLHyEva

— ᒪᗩᑌᖇᗩ (@la500noir) August 2, 2016
Tuscan Guests at #MalpensaStreetFood
So, Montemaggio was one of the guests invited to present their wines at this event with their Rosé di Montemaggio, Chianti Classico di Montemaggio Annata 2010, and olive oil for the Cooking Class. Denis Radzic 
Denis is ready for the #MalpensaStreetFood event tonight #Toscana. Are you ready? pic.twitter.com/D4ltazAZRW

— Montemaggio (@Montemaggio) August 2, 2016
represented Montemaggio and explained the wines to the people who attended the #MalpensaStreetFood event.
Questa sera si beve #Chianti a #MalpensaStreetFood con @Montemaggio e @cecchiwinery #malpesa #toscana pic.twitter.com/iNPnjabRwb

— Carlo Vischi (@CarloVischi) August 2, 2016
Also, the Cecchi Estate was present with their Chianti Governo all'Uso Toscano and the brewery Birrificio San Quirico from Val d'Orcia with their beer Giulitta.
La birra con la treccia: #Giulitta😂😂😂😂 (like Giulietta) @birrificioSanQu#MalpensaStreetFoodpic.twitter.com/ciOaJchZUD

— Alessia Bianchi (@lalessiuccia) August 2, 2016
Cooking Class
One of the highlights of the evening was the cooking show with chef Enrico Benedetti and Sabrina Fattorini.
Lo chef #enricobenedetti inizia lo showcooking a #MalpensaStreetFood#toscanahttps://t.co/X4qK3hwfOi

— Carlo Vischi (@CarloVischi) August 2, 2016
On the menu, you could find typical Tuscan food such as salumi, panzanella
and, of course, the Pappa al Pomodoro.
Concluding Thoughts
As mentioned above, this was one of many #MalpensaStreetFood events that are being organized by Hotel Sheraton Malpensa and Carlo Vischi and the next evening will be on September 6th with Lombardy as a theme. Montemaggio is very happy and honored to have been invited to take part in this initiative and at the same time having the opportunity to get to know bloggers, chefs, and other interesting people. Denis Radzic told me that it was a very interesting and nice evening in a beautiful place. He especially thought it was fruitful and fun to follow the cooking class, being able to taste a re-interpretation of traditional Tuscan dishes, and to enjoy the wine from Cecchi winery as well as the beer from Birrificio San Quirico. Even though Montemaggio is situated in Radda, in the heart of Tuscany, there are always new things to learn and discover.
We want to thank Carlo Vischi and Hotel Sheraton Malpensa, of course, for the invitation to this event, We also want to thank bloggers and food and wine people who attended the evening and shared and promoted us via their social media profiles, such as Alessia Bianchi, Sabrina Fattorini, Anna Cattaneo, Viviana Tombolillo, Edoardo Colombo, and Enrico Benedetti, to only name a few. You are all welcome to visit us at Montemaggio.
Written by Katarina Andersson.