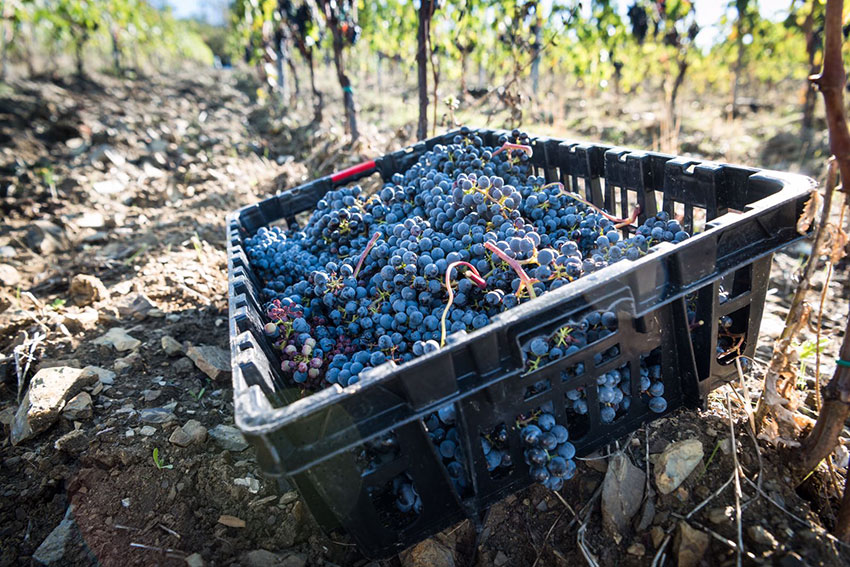 The end of September traditionally marks the beginning of the harvesting season for wine grapes. Harvesting is undoubtedly one of the most important moments of the year for winemakers, when the best and healthiest grapes are chosen and turned into juice to kickstart the wine-production process. Choosing the right moment to start harvesting grapes is a matter of both experience and scientific knowledge: in the vineyards the plucks are ripening, concentration of sugar in the grapes slowly reaching the right balance.
At Montemaggio there is a buzz in the air!
This is a key period of the year for both the vineyards and winery: producers will finally harvest the result of many long months of arduous work in the fields. We asked Ilaria Anichini to describe some of her first-hand experiences in the harvest operations in our vineyard.
Here below is a written report of our interview with Ilaria. We truly hope it will let you feel part of the special atmosphere that reigns in our winery right before the harvest!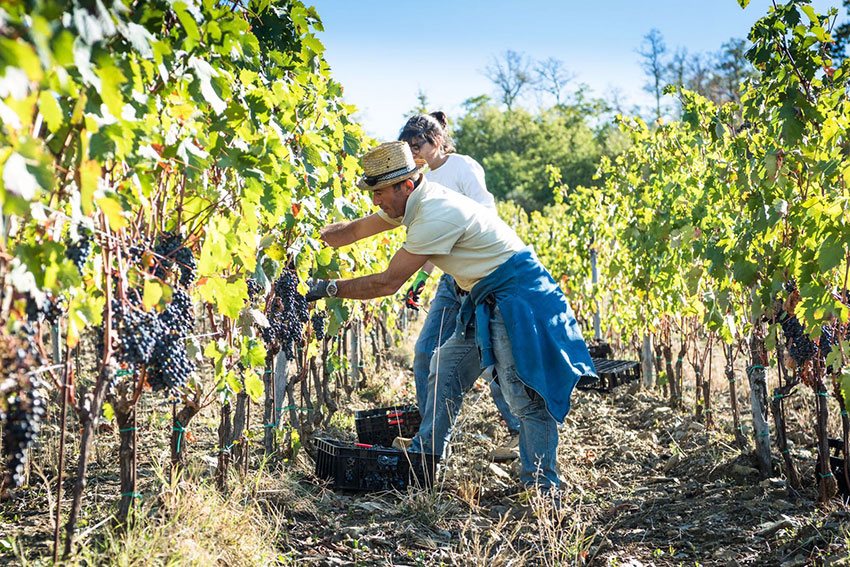 Hi Ilaria, we would like to know more about grape harvesting at Montemaggio!
Hello there! I am happy to share with you anything I can about this amazing time of the year here at our beautiful winery.
First of all, could you tell us how do you get ready for the harvest?
We scrupulously clean all our tools and equipment: storage vats, pipes, pumps, crates, everything we may need including the boxes used to collect the grapes in the vineyard. Another rarely mentioned but essential tool of our trade is to make sure that all those involved in the harvesting operations are in the right frame of mind. Our mantra is to be: "patient, flexible and reactive".
How is the atmosphere at Montemaggio during these days?
It is full of excitement, joy and just a tiny wee bit of apprehension. This is true for each and every one of us here in the vineyard: we would need to wait and pay close attention to daily weather forecasts, fully aware that everything lies in the hands of Mother Nature. We know we need to work alongside natural elements to be able to collect the grapes in optimal weather conditions. This is why I believe that harvesting grapes is often a matter of respecting nature and the flow of her rhythms, striving to catch the right moment to gain the best possible outcome in terms of quality of grapes!
Are all grapes harvested with the same method or are there any special factors to be taken into consideration?
When hand-picking grapes, we select the best and healthiest bunches, thus ensuring the same standards of quality to all our grapes. However, some varieties may require us to focus on something in particular. For instance, when harvesting a red vintage grape, it is better to collect fully ripened bunches whenever possible, whereas if the aim is to obtain a rosé we should instead try to select bunches that are slightly less ripe compared to the ones I mentioned before.
What is the relationship between technology and tradition at Montemaggio?
We keep our eyes open for technical innovations as long as they continue to allow us to work in line with Montemaggio's established harvesting tradition. Every year – depending on climate and how the season is going-  we strive to apply new techniques to our vineyards with the aim of improving the quality of our wines. For instance, in 2017 we experimented with slightly different agricultural techniques in the vineyards, and we hope to see some interesting results soon!
Do you ever take part in the harvesting operations?
Of course! Whenever harvest season arrives, I would first survey the vineyard with my team to show them where and how we are going to start collecting the grapes. As harvest operations progress I wait at the winery where boxes full of freshly plucked grapes are continuously being delivered. It is important that we verify that the bunches of grapes have been properly selected. The owner joins us whenever she manages to make time for it. As much as we can, we like to be part of the process!
What are some common misconceptions about grape-harvesting?
People often picture grape-plucking as a stroll to the countryside, while it is actually an activity that requires a great deal of precision, hard work and effort. We start very early in the morning and sometimes need to stay out in the fields till late at night to complete a harvest before the weather changes. However tiring, it is still immensely fulfilling to collect the fruits of a yearlong effort.
Are there memorable moments from past harvests that you wish to share with us?
There is something worth remembering every year! I recall times when we harvested till late at night, encouraging each other to keep going in spite of fatigue, or other times when we shared a glass of wine at the winery while examining the freshly collected grape bunches. Once, it was so late and we were so hungry because we had not managed to have dinner (we could not stop until all operations were completed) that we shared a pizza right there under a makeshift lamp in the courtyard while waiting for the next round of boxes to arrive. There were even times when somebody started singing to help everyone take their mind off from the fatigue. It is perhaps the chatting and laughing together that makes this truly enjoyable.
Can we visit Montemaggio during harvest season?
Yes, definitely! Everyone is welcome at Montemaggio. Just ensure that you book your visit in advance to enjoy a tour of the vineyard, a wine tasting session and the chance to witness with your own eyes some of the harvest operations. We will be more than glad to share with you all that we can about the different phases of wine production. If you are lucky enough and happen to visit us on the right day, you may get the chance to see us at work in the vineyard and experience yourself the wonderful scent of freshly plucked grapes.
For more information about Montemaggio wines, click here.