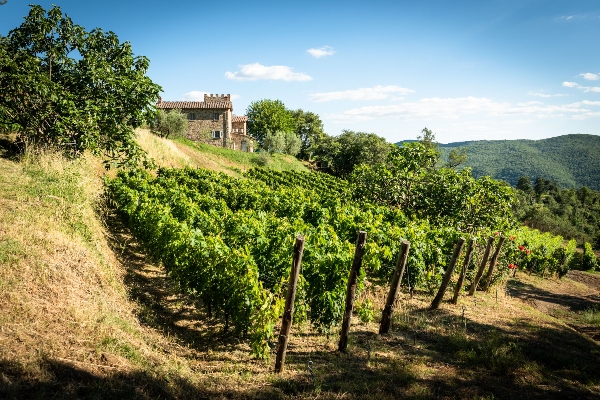 Things are looking up and it seems to be possible to travel to Italy for the summer of 2021. Europe is slowly opening up in general both in daily life and for travel. We are all looking forward to being able to go places again, see friends, and something as simple as enjoying a glass of good wine together. Right? Even though the pandemic is not over yet, we can take small steps to safely and in line with restrictions start having some fun again.
After the Rain Comes Sunshine…
There have been a lot of discussions and articles about how travel will look like after the pandemic. Has globalization outrun itself? Can the pandemic perhaps have given rise to a reset of travel and tourism leading towards more sustainable travel? Studies of previous "non-economic disruption" such as wars or pandemics have shown that they, in general, lead to change, a boom in the economy, a certain adventurous nature among the people, but also to political and social upheaval. (See the article What history tells you about post-pandemic booms in The Economist )
We are, of course, hoping for an economic upswing and a desire to spend on leisure and travel again after the long period of the pandemic. Adventure and economic boom are indeed the words and actions that we are liking right now. We are convinced that it is possible to, with baby steps, get back to traveling and meeting people again.
How can we in the best way take advantage of everything that Italy and, especially, Tuscany has to offer when it comes to culture, history, nature, and, of course, wine in a Covid-safe and sustainable way? We have some tips for you below.
Vacation with Adventure
The Economist writes that people want to be more adventurous after pandemics and other disruptive events, therefore, this is the time to do something different on your vacation during 2021. Why not go camping or try the more trendy glamping during your vacation in Italy? This takes you away from the crowded hotels in the cities and gives you a chance to enjoy the nature and stunning landscapes of Tuscany.
Then you can make day trips from your yurt or your luxury tent to discover what the local area has to offer. Why not visit a winery and get a guided tour followed by a wine tasting with a view of the surrounding vineyards. At Fattoria di Montemaggio, we take you on a walk of the estate and its grounds, such as the wine cellar, the vineyard, and the garden to better understand how organic farming, cover crops, and biodiversity are important to make wine with excellence. Are you curious to learn more?
Vacation with Outdoor Activities
You do not need to sleep in a yurt to be adventurous on your next vacation in Tuscany, you can also enjoy the great outdoors by doing activities out in nature. Tuscany is the perfect place to go hiking and trekking. There are many hiking routes that take you around the amazing Tuscan countryside, such as the Pienza to Montepulciano route, the San Gimignano, or the Radda Loops. This is the perfect opportunity to take some breaks along the walk to see local churches and monuments and visit farms and wineries.
If you go hiking in our neck of the woods you can pop in for a short tour and a bite to eat. For example, you can choose a picnic basket, a bottle of wine, and find a spot in the garden or in the vineyard to relax or have a romantic moment.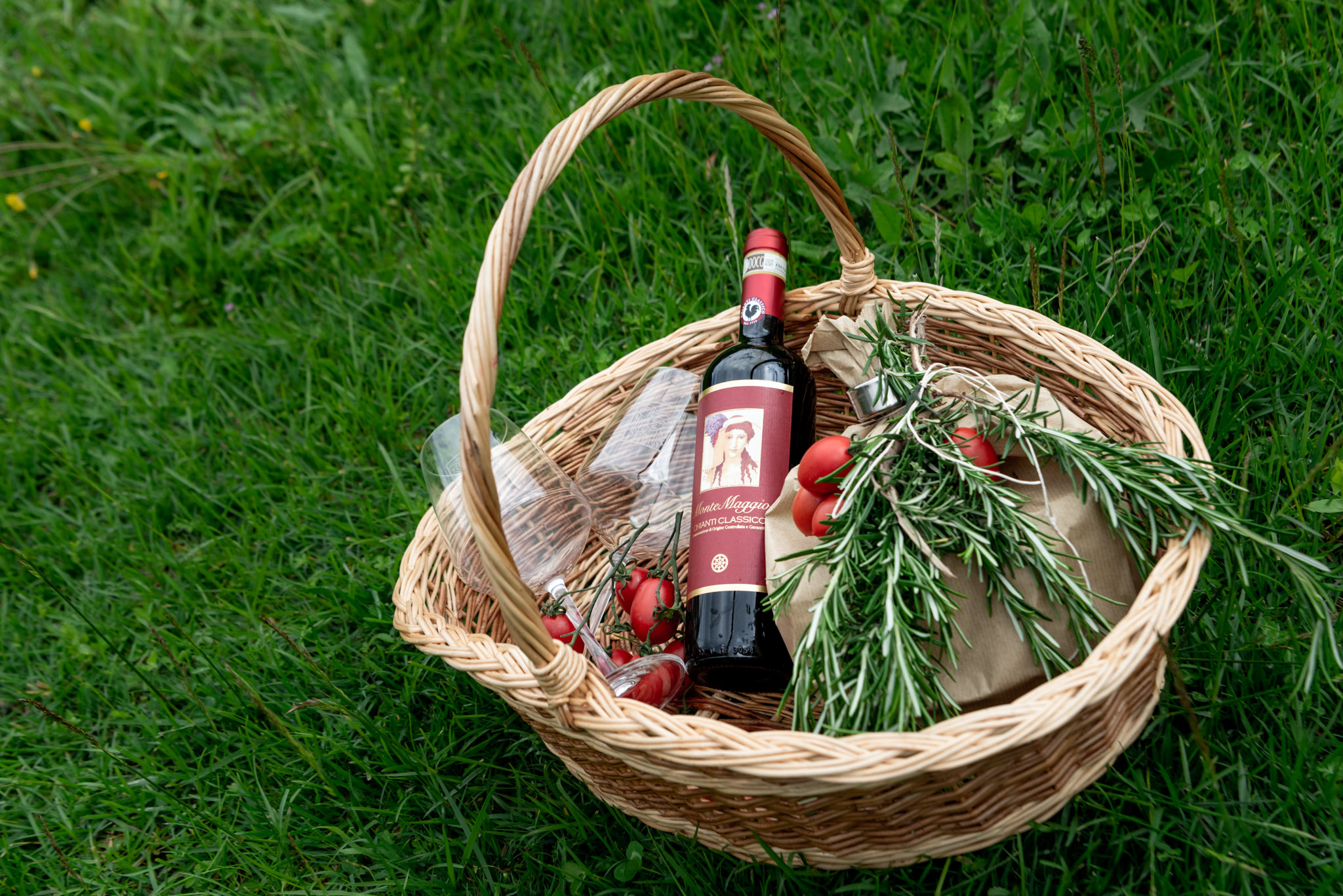 Tuscany as it used to be…
This year, you will still have the opportunity to get a glimpse into what life used to be like before mass tourism became a reality in Italy in early 2000. The pandemic has put a stop to international travel and tourism in Italy as in so many other countries, which has led to a slower pace in villages and towns and it has brought local communities together. All over Italy, the local population has been able to reconquer their spaces and rediscover their hometowns and villages. Many towns and cities are feeling "Italian" again. In the New York Times article Without Tourism, Life in a Tuscan Village Slides Back in Time by Gaia Pianigiani, she writes how a local inhabitant in Castellina in Chianti commented that
The summer was reminiscent of the late 1990s before the buses loaded with tourists started arriving in Chianti.
The lack of tourism is, of course, not good for the economy and it has been a hard year for many local businesses. However, if you want to experience a picturesque and quaint Tuscany as it used to be, then the summer of 2021 is probably the moment to do so.
At Fattoria di Montemaggio, we organize painting classes on ceramics or textiles as well as cooking classes to valorize the local tradition of craftsmanship. Search for your inner creative self and immerse yourself in the painting process…with a glass of wine close at hand.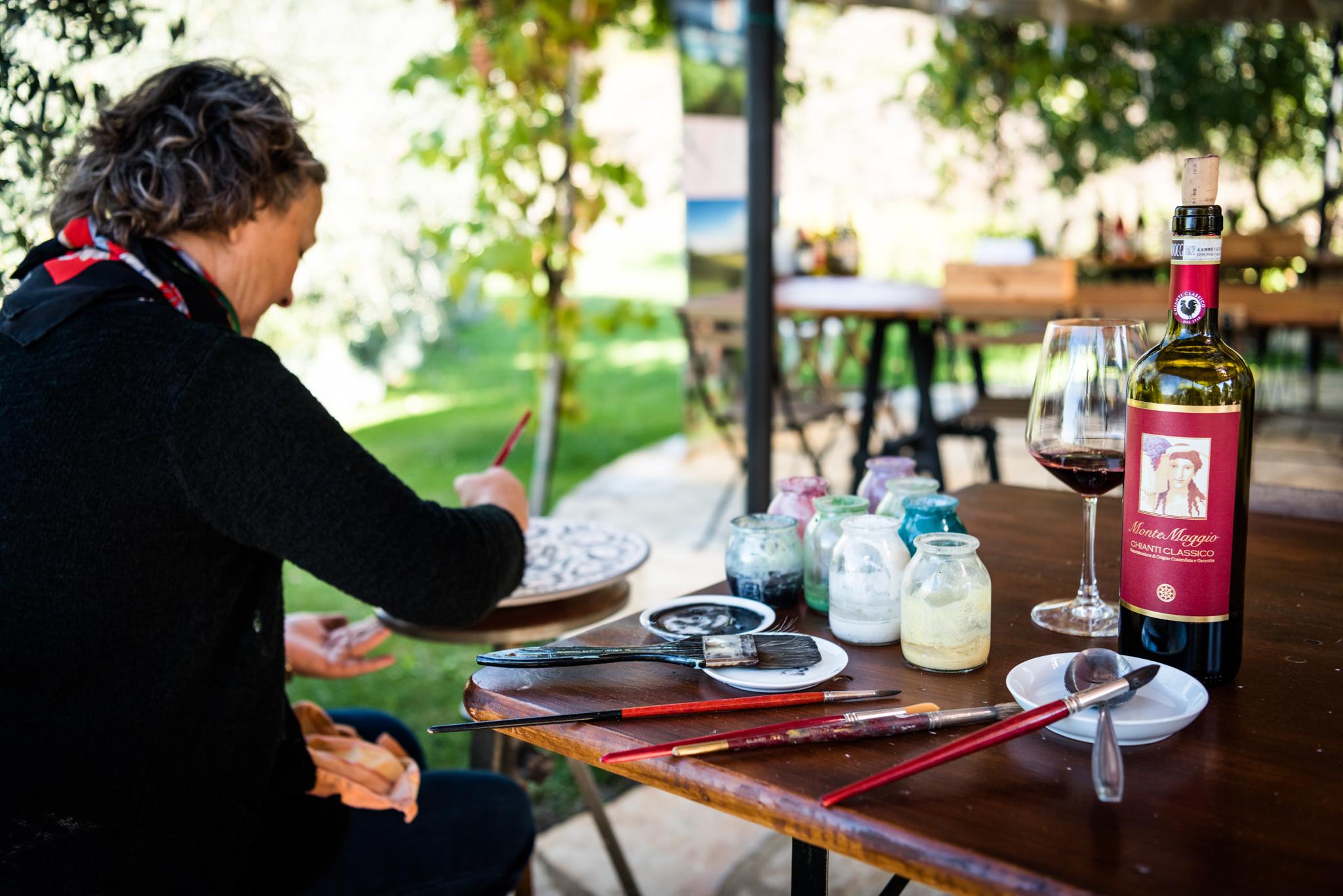 Travel Safely to Italy 2021
There are a couple of questions regarding how to travel to Italy this summer that most of you might be wondering about, right? The following might answer some of your concerns.
Is it safe to travel to Italy though?
The answer is that, yes, it is safe to travel to Italy if you are respectful and follow the restrictions in vigor. This means to, for example, keep the indicated safety distances and wear masks.
Can people from the US travel for tourism to Italy right now?
For the moment, it is open for people from Europe, Israel, and Britain to visit Italy without any motivation for the visit and without the need to quarantine. They do need to show a valid negative test for coronavirus though. For people from the US and other non-European low-risk countries, it is possible to visit Italy but they need to take a test for coronavirus and do 10 days of quarantine.
Written by Katarina Andersson.