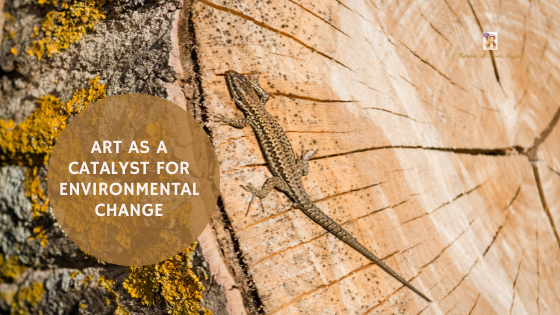 When the world is in constant turmoil in the latest years with hurricanes, earthquakes, bushfires, and now, last but not least, the Coronavirus, you start realizing something needs to change. There is a need for change not only in climate but in mentality. After decades of increased traveling all over the world, overuse of the resources of the globe, a daily rhythm that gets faster and faster, perhaps it is time to slow down.
Can this constant search for 'the grass that is greener on the other side' continue?
In a recent article, Andrew Jefford stressed how even people in the wine industry will need to start thinking about reducing the carbon footprint. Wine writers and other people in the wine business travel non-stop to discover or showcase wine all over the world. He argues that it is all unsustainable in the long run. (See Jefford: What lies ahead for wine in 2020? in Decanter)
Another initiative lately that showed the urgent need to make changes in favor of more sustainable lifestyles, was when the Italian Vogue magazine decided to publish its January 2020 issue without photos. The carbon footprint and the amount of pollution due to travel, the number of staff, the use of cars, electricity, waste of food, etc. to produce one issue of Vogue is unsustainable according to its editor in chief. Therefore, they instead had artists make illustrations of clothes. (See the article Italian Vogue Won't Publish Photos This Month in New York Times)
The January issue with only illustrations was. however, a one-time thing and nothing they will do on a continuous basis. At least not yet…
Valeria, the owner of Fattoria di Montemaggio, went to see the exhibition "Aria" at Palazzo Strozzi in Florence the other week. She was very much inspired by it and came up with the idea for this article.
Now you might wonder why?
Let us look closer at the exhibition and its artist below.
Aria – An Art Exhibition That Gives Food For Thought
The artist behind the exhibition "Aria" is the Argentinian Tomás Saraceno who lives and works in Germany. Tomás studied both art and architecture in Buenos Aires and in his art he incorporates architecture as well as technology, life science, and social sciences. His general idea is to try and find "new, sustainable ways of inhabiting and sensing the environment." (See more at his website) He strives to find an ethical approach to inhabit the atmosphere.
Tomás Saraceno is very interested in spiders and the webs they weave and this fascination resulted in him creating "the Arachnophilia team." In turn, this can be said to have led to the creation of the exhibition "Aria" that you can now see at Palazzo Strozzi in Florence.
In an era when the air is polluted and we, for example, are surrounded by radiation from electromagnetic waves, Tomás Saraceno suggests another way of experiencing and living the space. He has created works of art in the form of spider webs, spheres, bubbles, sounds, and vibrations that are all suspended in the air. It has been described as a dialogue between the Renaissance and the contemporary era. (See Tomás Saraceno a Firenze: la mostra "Aria" a Palazzo Strozzi in Il Reporter) He is looking for other ways to look upon the universe, a more collaborative and inclusive perspective in order to work towards an environment 'free from borders'.
Climate Change – Going Back To The Roots
Valeria thinks that this exhibition conveys a message that is important for the world right now, i.e. to understand the urgent need to protect and save the planet. It is imperative, in her opinion, that people start to think about these issues and realize the need for a change.
She believes that a new alternative could be to go back to the roots and live in symbiosis with nature. She continues by saying:
"I believe that when mankind can go back to being with nature again, maybe then change can take place."
Valeria was amazed by the feelings it evoked to look at the fragile and delicate webs, the spheres, even the paintings made with graphite from Mumbai, one of the most polluted cities in India. All these creations in suspension can bring about a desire for change.
Let us make another parallel to the wine world where the trend of going back to the tradition, to the roots, is becoming more and more a reality lately. As mentioned above, everyone needs to pull their weight to push for a change.
At Fattoria di Montemaggio, nature is at the center of everything. Everyone at Fattoria di Montemaggio values and work together to safeguard the surrounding environment and trying to be as sustainable as possible.
Click on the following link to read more about Fattoria di Montemaggio.
Other sources:
Written by Katarina Andersson.