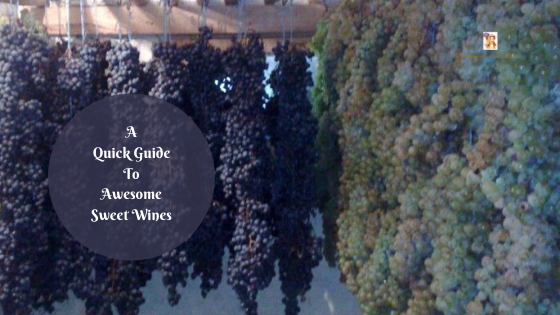 Most of us probably have somewhat of a sweet tooth. At least every now and then we might like something sweet after dinner. It does not only have to relate to food but it can also be a glass of nice dessert or meditation wine.
You might say that sweet wines are not your cup of tea, that you prefer them dry.
Quality sweet wines do often not have that sweet of a taste, though. There are also different kinds of sweet wines.
Let us dive a bit deeper into the world of sweet wines. Then, we will also talk about a sweet wine project we are working on here at Fattoria di Montemaggio. So, stay with us until the end of the article.
The World of Sweet Wines
There are many types of sweet wines, such as
sparkling sweet wines,
sweet wines made with white grapes versus red grapes,
sweet wines made with grapes that are dried in different ways before they are pressed,
fortified sweet wines (where the fermentation is stopped by adding grape spirit).
We will take a closer look at sweet wines made with the appassimento method, i.e. grapes that dry or raisinate on the vines, on mats, or in drying rooms.
Sweet wines made with the appassimento method
The most well-known Tuscan sweet wine is probably the Vin Santo.
But how is it made?
Vin Santo is sweet wine from Italy made with the white grapes Trebbiano Toscano and Malvasia to a minimum of 60%, blended, or individually. Up to 40% can be other local white grape varieties in Tuscany. These are the rules for the Vin Santo of Chianti Classico.
After the harvest, the grapes are hung to dry in ventilated drying rooms, so-called fruttaie, to let the water in the grape evaporate and the sugars become more concentrated. Generally, they are dried for 2-3 months after which they are pressed and the juice is put into caratelli that are small oak barrels. The longer the grapes are dried the higher the residual sugar level.
The fermentation takes place in the caratelli and then the juice is matured in those same barrels for a minimum of 24 months. However, many producers age Vin Santo for 3, 5, and up to 10 years before they release it to the market.
Vin Santo can vary from bone dry to very sweet. A quality Vin Santo is a natural sweet wine that generally does not have an overbearing sweetness but rather a richness and complexity that develops over time. Vin Santo can be paired with desserts as well as with aged or blue cheese.
Other grape drying methods for sweet wines
Grapes for sweet wines can also be dried in crates or on mats out in the sun, or directly on the plant.
The Passito Greco di Bianco DOC is an example of an Italian sweet wine where the Greco Bianco grapes are dried for a couple of weeks on mats in the broiling sun in the south of Calabria. Passito di Pantelleria is another famous sweet wine where the Zibibbo grapes are dried on mats in the sun.
Drying on the plant…
When it comes to grapes being dried on the plant, it means a late harvest where the grapes undergo an over maturation as, for example, is often the case with the Primitivo grapes for the sweet wine Primitivo di Manduria Dolce Naturale DOCG. (They can also be dried on mats or in drying rooms.) Late harvested grapes often give wines with a high alcohol level and a quite high residual sugar level.
When grapes are dried on the vines it can also be for them to develop the noble rot, i.e. the fungus Botrytis cinerea. This 'friendly' fungus only attacks certain suitable thin-skinned grapes in the right climatic conditions when they are very ripe. Picolit, Muscat, Aleatico, and Riesling are examples of grapes that can be harvested late to be 'attacked' by the 'friendly' noble rot.
Ice wine is another type of sweet wine where the grapes develop the noble rot while maturing on the plant. What is characteristic with ice wines, though, is that the grapes are harvested when they are frozen on the plant. In fact, the grapes need to be harvested when the temperature falls to below -7º C.
Did you know that Amarone is a dry red wine where the grapes – Corvina, Corvinone, Rondinella – are dried in drying rooms or on mats for about 3 months?
That is why it has that powerful yet fruity and sweet characteristics as a wine.
Sweet wine experiment at Fattoria di Montemaggio
Fattoria di Montemaggio is not producing any Vin Santo but has rather carried out an experiment with fruit to get a different and less sweet wine.
The idea came from the Vino Prugnolo that traditionally was produced in the province of Arezzo. It was a sweet beverage made with wild prunes together with white wine. The result was a tannic and bitter wine.
Fattoria di Montemaggio decided at first to use mulberries instead of prunes and then figs another time but the result was a very acidic juice. It has also been difficult to reach the necessary sugar level.
The experiment will continue, so stay tuned!
Learn more about the wines of Fattoria di Montemaggio.
Written by Katarina Andersson.
Sources:
Vini passiti in Quattrocalici.it
Late Harvest Wines and Why They're Awesome in Wine Folly
3 Different Italian Appassimento Wines That You Will Love in Grapevine Adventures