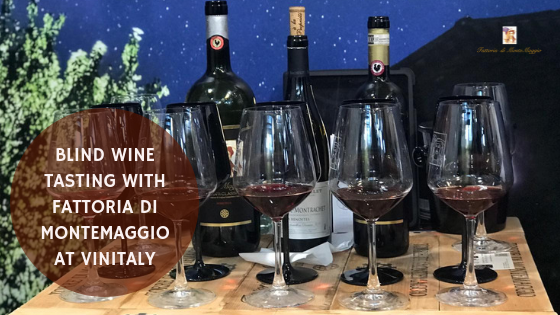 Vinitaly has come and gone this year. As every year, Fattoria di Montemaggio had a stand at Vinitaly to showcase the wines, meet new and old clients, friends, and wine lovers. Vinitaly is four days of non-stop wine euphoria in Verona in Italy. This year, Fattoria di Montemaggio had organized a small blind tasting for a selected group of wine professionals that we will tell you more about below.
However, let us start by looking closer at Vinitaly this year…
Vinitaly 2019 in experience and numbers
Vinitaly, which started out back in September in 1967, opened its doors for the 53rd time this year. In 1967, the event was called the Giornate del Vino Italiano, and not Vinitaly. It would take until 1978 before Vinitaly got an international image by opening for foreign wineries to participate. The time of year for this trade show was changed from early autumn to early spring in 1980. The 1990s was the decade of further developments and internationalization that would continue into the early 2000s. In the 2000s, Vinitaly started going on tour to the US, Japan, Russia, and other countries that then lead to the launch of the Vinitaly International Academy in 2014.
Let us get back to this 53rd edition of Vinitaly, which has been defined as the biggest Vinitaly trade show so far with 4.600 wineries and companies present as exhibitors from 35 different countries around the world. Vinitaly 2019 received 145.000 visitors from 145 countries all over the world. There has been a focus on attracting more professional wine lovers and international audiences to raise the quality of the trade show and benefit the exhibitors.
The incoming of international buyers saw an increase of 3% with the top countries being buyers from the US, Germany, UK, China, and Canada. Furthermore, there was an increase in incoming buyers from Japan with 11%. Vinitaly has indeed been concentrating a lot of effort on promoting Italian wine in Asia and the Far East in a permanent manner. Overall, it was a good year for Vinitaly.
Blind Tasting for a Selected Group of Wine Professionals
At Fattoria di Montemaggio, we took the opportunity to invite a group of wine people to our stand for a small blind tasting during Vinitaly. The wine people that participated in the tasting were as follows: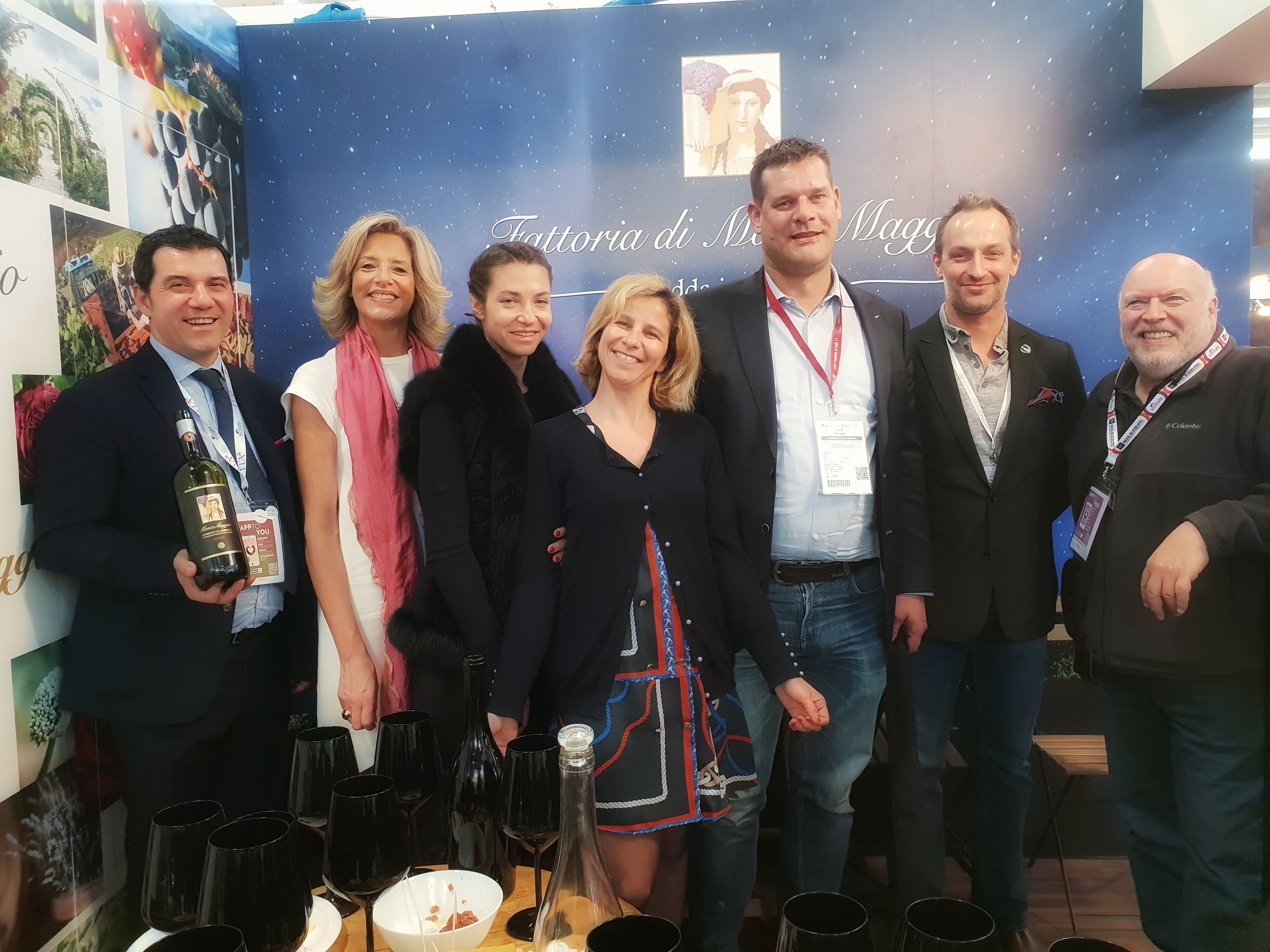 Valeria and Ilaria, the owner and the Estate Manager respectively at Fattoria di Montemaggio, wanted to try something different to insert the Chianti Classico wines of Fattoria di Montemaggio in a wider (wine) discourse. Therefore, they came up with the idea to do a blind tasting with the Montemaggio Chianti Classico wines and one or more odd wines out, i.e. to throw a different grape variety into the game. The idea was to find similarities and compare, there was no competition involved. Edoardo, the Cellar Manager, helped to prepare and set up the tasting.
Ilaria wanted to compare the freshness, minerality, and elegance of the Montemaggio Chianti Classico with wines made with another great grape variety. (Soon we will discover which grape variety!) The initial idea was to compare wines of the same vintage, but it turned out to be difficult to find wines of the same vintage that could work well with the Sangiovese from Radda. Therefore, Valeria and Ilaria decided to choose three wines of the 'other' grape variety from two different producers: one producer in Mugello in Tuscany and one producer in Burgundy in France.

Guess the three odd wines out at Fattoria di Montemaggio's blind tasting
The heart-shaped setting of black wine glasses had a certain scenic effect and gave a more dramatic touch to the blind wine tasting. There were five wine glasses with five wines to taste for the group of wine tasters. The idea was for them to guess which the Sangiovese wines were and which were the wines made with the secret grape variety. As mentioned above, there were three odd wines out.
Let us reveal the secret grape variety…
As you might already have guessed, Ilaria had chosen two Pinot Noir wines from Mugello in Tuscany and a Pinot Noir wine from Burgundy in France to compare with Chianti Classico Riserva 2011 and 2006 from Fattoria di Montemaggio. The Tuscan Pinot Noirs were a Coldaia 2016 and a Fortuni 2014 from Podere Fortuna while the French Pinot Noir was a Chassagne-Montrachet 2014 from Domaine Vincent Bachelet. The French Pinot Noir is a Village, i.e. an appellation defining an origin from a specific district.
The young Pinot Noir Coldaia 2016 from Podere Fortuna has notes of lovely fruit that in a certain sense can stand up to the Sangiovese of Montemaggio and tannins still more perceivable due to its youth. The black glasses played a trick on the tasters making it difficult to perceive the youth and the rougher tannins. The Pinot Noir Fortuni 2014 from Podere Fortuna also has a beautiful fruit and freshness with smoother tannins.
The Chassagne-Montrachet 2014 from Domaine Vincent Bachelet has a floral bouquet that resembles the Sangiovese. Also, the notes of cherry and red fruit, as well as the spicy touch, are similar to the Chianti Classico wines. It is a complex wine with a certain body that is a pleasure to taste. As mentioned before, the minerality and elegance, as well as the floral and fruity touch, have a certain similarity to the Sangiovese.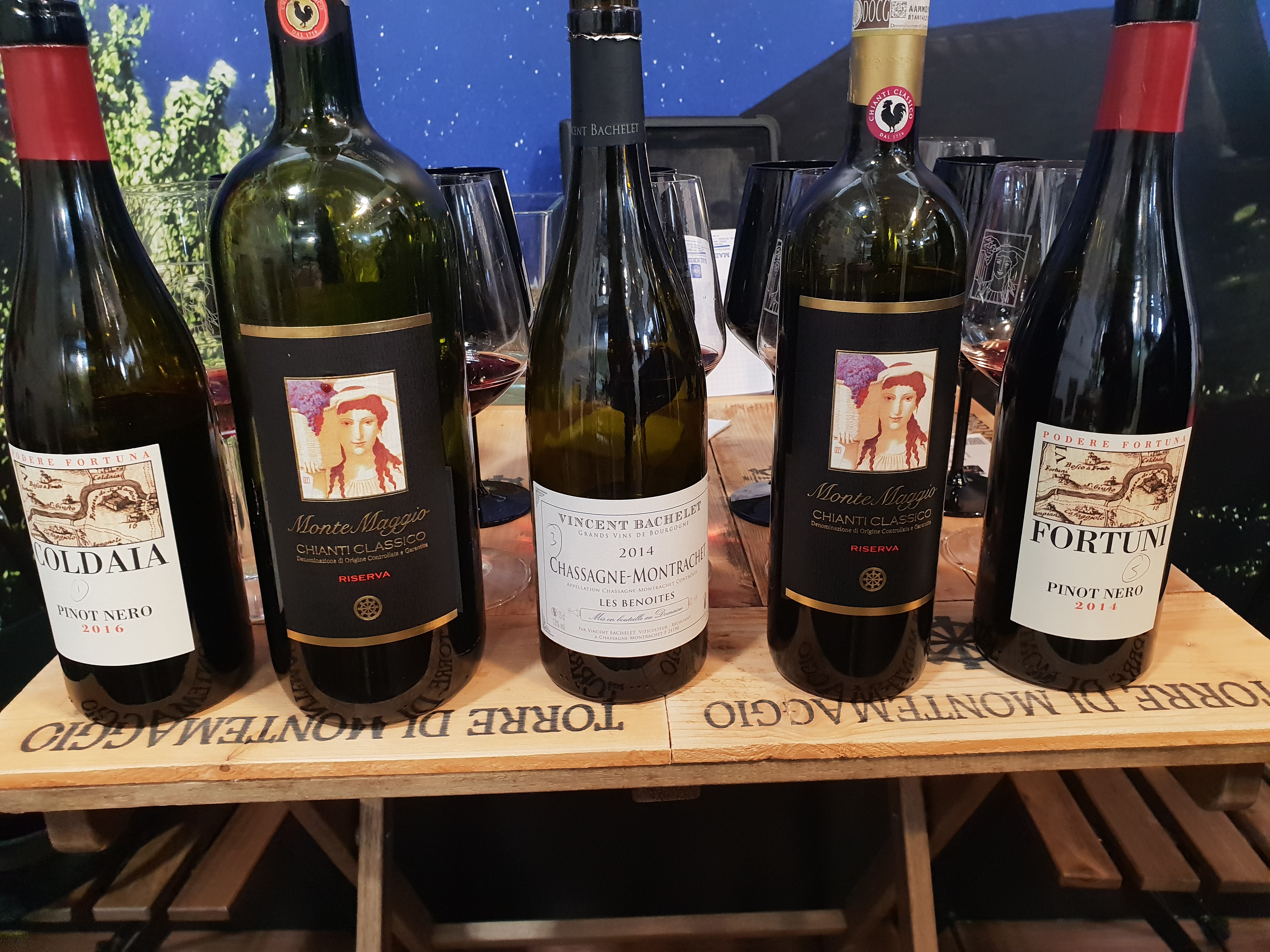 Learning through a blind tasting…
…is both fun and fulfilling. At least we think it was inspiring for us to compare our Chianti Classico Sangiovese wines to another grape variety. Not only one grape variety but Pinot Noir from both Mugello in Tuscany and Burgundy in France. The wine tasting gave us an opportunity to learn more about Pinot Noir cultivated in different terroirs. It also gave us the possibility to exchange ideas and opinions with colleagues in the wine world. All in all, a great experience for us.
We hope all of you enjoyed the tasting and until next time!
Written by Katarina Andersson.