My husband and I recently took a spectacular trip to Italy and visited some amazing regions, rich in cultures and traditions.  One of our destinations was Tuscany and we were living our dream of "La Dolce Vita" (the sweet life). We were blown away by the beauty of the rolling hills and the lush cypress trees. Finally, all the landscape pictures we had seen were coming to life and the views were similar to that of a postcard.
On the first day, we got to visit this beautiful winery called: Fattoria di Montemaggio, located in Radda in Chianti in the heart of Chianti Classico region.  It's truly magical with a stupendous view of the valley, and well-manicured grounds. There were full-blown roses and fresh artichokes growing in the immaculate garden. Ilaria, the estate manager greeted us with a beautiful smile and gave us a tour of the vineyards. It was clear how passionate she was about her job and demonstrated a great knowledge in the viticulture and viniculture process of wine making. She gave us a little lesson about the stubborn Sangiovese grape, as I explained in an earlier post:  The temperamental Sangiovese grape variety. Read more here.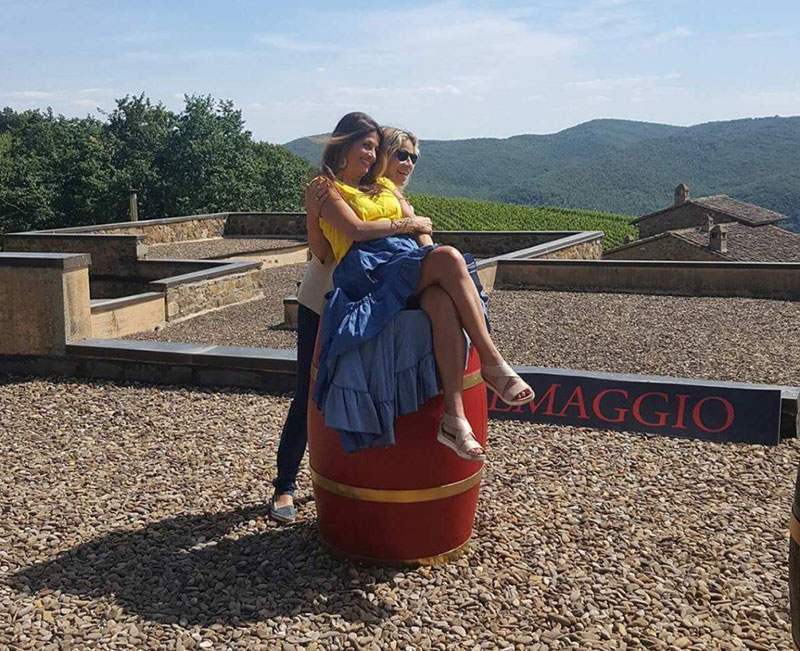 Vedere sotto l'albero di natale il mio merlot montemaggio preferito non ha prezzo!!!
Quello che mi aspetta e' un gusto deciso e unico, riconoscibile anche chiudendo gli occhi, e un profumo che accompagnerà piacevolmente qualsiasi portata. Grazie per riuscire sempre ad ottenere il risultato perfetto
From the very moment I arrived at Fattoria Montemaggio, the entire experience exceeded any expectation. Situated in the heart of Tuscany and rooted in the principal heritage district of the Chianti region, Fattoria di Montemaggio undoubtedly produces Chianti that will satisfy the palate with sophistication and elegance. At this charmingly situated estate, the vista, hospitality, wine, (not to mention the olive oil!) was stupendous. The gorgeous estate is situated on layers of rolling hills and led by the gracious Valeria Zavadnikova. The property has an undeniable presence and is as welcoming as it is elegant. The Chianti Classico possesses a beautiful ruby color, full body, and elegant spices. There are hints of floral aromas and a wonderfully smooth finish. Truly, nothing short of excellence at Fattoria Montemaggio, an impervious and unparalleled experience! If you find yourself in the region and are thirsty for colorful landscapes, scenic sunsets, and a sophisticated wine experience, then Montemaggio awaits you. If distance is upon you, then I would definitely recommend ordering and trying the wine for yourself!
Complimenti ad Ilaria per la passione che ha saputo trasmettere a tutti i corsisti di primo livello, ma anche a noi assistenti di corso. L'approccio al mondo del vino è una fase molto delicata, nella formazione dei futuri sommelier e mi sembra che questa visita abbia rafforzato l'entusiasmo che li ha spinti ad avvicinarsi ai nostri corsi.
La vera toscana in un bicchiere. Con Il chianti classico Monte Maggio basta stappare una bottiglia per inebriare la casa di un profumo caldo e avvolgente. In bocca bello, elegante, vinoso, ben equilibrato, lungo e persistente, veramente buono! Ottimo da servire in abbinamento a piatti di carne, anche selvaggina, o formaggi stagionati.
Io amo anche il Rosé, da gustare per un aperitivo gourmet o durante una calda sera d'esteta con pietanze a base di pesce. Fresco, leggero ma allo stesso tempo deciso.
Tutto questo condito dalla consapevolezza che si tratta di un vino sano, biologico e senza elementi artificiali.
Cosa dire veramente ottimo! Da provare.
Bere questo Chianti…..mi ha riportato alla mente le colline, i vigneti e i colori della Toscana in autunno……che vino inebriante
Un Chianti ineccepibile, il carattere e la struttura non mancano, lasciano percepire il fatto di avere a che fare con un vino di una certa importanza. Il mio preferito è il Chianti Classico Riserva, il profumo mi coinvolge, come il sapore, elegante e vellutato. Un punto fermo della mia cantina, grazie fattoria di Montemaggio!!
我今年参观了基安蒂酒庄,它是那样的迷人,与其它酒庄不同的是它不仅是一个酒庄而且还是具有环保意识很强的中世纪酿酒传统的古老酒窖。包括橄榄油,香甜的葡萄都显得与众不同。而且性价比十分突出,值得我们去尝试和收藏。谢谢基安蒂带我度过愉快的一天。
基安蒂红酒是意大利上层红酒,它具备红宝石色,色泽明亮,香气浓郁,散发迷人的果香。它是与红肉,奶酪等食物最佳的选择,我喜欢。
I visited this cellar this summer and absolutely loved it! Everything about it was exquisite! We bought a few boxes of their white wine and brought them back to Spain. I loved the wine but my sisters in Bilbao went crazy for it. It has a slightly higher level of alcohol than usual so might that be the reason… they probably thought that made it stronger. Overall, I give it a 10 out of 10… not a wine expert but I can tell a great wine when I drink one.
Keep up the good work!
Nos recomendaron visitar esta preciosa bodega en medio de la Toscana y la verdad es que superó todas nuestras expectativas. Nuestra visita coincidió con un día precioso durante la cosecha de la temporada pasada, y quedamos encantados con el personal que nos atendió, las instalaciones y, sobretodo, el vino de Chianti, el aceite de oliva virgen extra y la grappa que pudimos probar y que producen artesanalmente y con todo el cariño.
Estamos acostumbrados a buenos viños de España (sobretodo Rioja, Ribera de Duero y Somontano) pero aquí, lo producen todo artesanal, ecológicamete y en pequeñas cantidades, con una relación calidad-precio excelente. Bravissimi Valeria e Matteo!, grazie 1000!.
Chianti Classico ??? che rosso , anche la moda gli ha rubato il colore , è il rosso del 2015;
che bouquet, un profumo che ruberanno gli stilisti;
che sapore, per molti piatti è la sublimazione del piacere !!!
Che buono il Chianti Classico : come lo apri senti il profumo di frutti a bacca rossa , lo gusti e in bocca risulta corposo , lungo e persistente , una delizia ; ha dato un tocco di unicità al nostro arrosto di carni,ma penso che con il suo sapore elegante sia ottimo anche con formaggi stagionati.
A beautiful property, a charming team and authentic, organically produced incredible wines. Montemaggio is a true Tuscan gem!
I visited Montemaggio during the harvest and i have to say that i was very impressed how this wine is made. Their product is the real organic wine, everything is done by hand. Now i understand why the quality and the bouquet of the wine is marvelous.