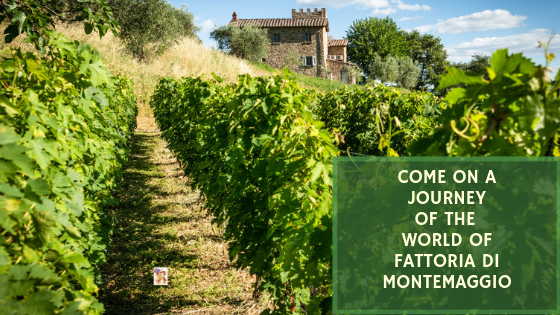 The saying normally goes that a picture says more than a thousand words… However, in today's fast developing social media and the visual content based world, we might need to modify that saying to 'a video says more than a thousand words and pictures'. What do you say?
Video has in the last few years become the most important tool to get people's attention and to promote yourself in the online world. According to the statistics, more than 55% of people in general watches videos daily online. The sharing of social videos is growing successfully and generates over 1200% more shares than sharing of other types of content. (Source: 17 Stats and Facts Every Marketer Should Know About Video Marketing in Forbes) In this context, the effectiveness of a video is also important and, according to Wyzowl, 79% of consumers overall prefer to watch a video about a brand or a product rather than reading a text.
A very first video about Fattoria di Montemaggio
This said, let's get back to our video about Fattoria di Montemaggio that we are launching and want to talk about here. At Fattoria di Montemaggio we wanted to create a professional video that would embrace everything that makes our boutique winery into that unique spot we love so much. A video that in a unique way gives an expression of culture, craftsmanship, history, terroir, tradition, wine, and much more at Fattoria di Montemaggio. An expression of all that creates the Fattoria di Montemaggio soul and brand identity.
We are launching the video this week on YouTube (see above) and in connection with this our owner Valeria Zavadnikova is answering a few questions in an interview below.
1) Why did you decide to produce a video about Fattoria di Montemaggio?
It was my longtime dream to make a video for Fattoria di Montemaggio. First, because we take many pictures and talk a lot about Montemaggio but there is nothing as powerful as one video that combines all of it together in one place. It sends an important message about our identity and about our philosophy! On top of it all, there are many people who have never heard of Fattoria di Montemaggio or who have never been to Tuscany or Italy even. Sending a video or watching a video will give them a much clearer idea in their heads and show them what we really are.
2) There are many signature videos for companies and wineries out there. How did you want your video to be different?
That is true, there are a lot of various videos out there but they all have the same feeling – at least I have the same feeling about them – most of them are very traditional. They show the place, the owner speaks about his/her winery, how his/her family or long distance relative came about to enter the business of winemaking and so on and so forth. They show the estate, the cellar, the harvest, of course, and the product.
That is all there is really to it most of the time. Nobody shows the people that work there, only marginally, nobody shows the real beauty of Tuscany in each of its seasons. Nobody shows that there is something utterly magical about the whole world of wine and everything that surrounds it. Furthermore, everyone talks a lot, when the real beauty just needs to be shown and not talked about.
3) The theme of the video is the four seasons; can you go more into detail about how it has been linked to the question of culture, tradition, terroir, etc at Montemaggio?
It is a bit more than that. it is four seasons – the beauty of nature despite the calendar day, the beauty of day and night, the beauty of sunset and sunrise, the beauty of the beginning of spring when everything is ready to wake up and the beauty of late autumn when we harvest not only grapes but all gifts of nature, a time of feast.
Nature does not have bad weather, it is always stunning and it was important for me to show this. Then, there is an idea of the natural circle of life – everything has a beginning and an end, it is not bad or good, it is life itself. I have tried to insert bits and pieces that show how we should enjoy nature and preserve it, how we should cherish every single minute of every single day, like children who have no understanding of time and who enjoy their life as it is and cherish every minute. The same goes for animals, dogs in this occasion. 🙂 These creatures have the ability to enjoy the very moment, something we often forget in the modern day.
Children are our future, of course, and a part of this heritage that we should pass on and on for generations. It is important for me that children are close to nature, close to earth, that they see how everything is born and when life comes to an end. Culture and tradition are passed on from generation to generation and have been done so for thousands of years in this territory. It was important to show all this in our video to again send the message that is depicted on our label and carried on in our wines – we try to do them as close to the tradition as possible and as natural as possible.
4) Could you tell some story about the challenges/rewards/fun stories during the production of the video?
Well, since there are four seasons, it needed to be filmed during all those four seasons 🙂 and, so, this was a long ordeal which took us a year to realise. We unexpectedly had so much material that it also took us a lot of editing since we initially wanted to do a 1.30 min video. But it was just a shame to leave all that material out, so it came down to do a lot of cutting.
Furthermore, it was hard to film in rain or, rather, it was very hard to catch rain on video since the person that was filming only had a few days to work each time. Of course, it was impossible to order rain LOL during those days, as well. I have to say, that we had a lot of luck with various seasons and fortunately we always got the weather we needed. Believe it or not, on the day we were supposed to film the harvest of olives, we had a miscommunication with the video person and he almost didn't come at all.
Then, it took me forever to choose the music as I didn't want a very lyrical tune, rather I wanted something that would give a dynamic boost to both the video and the one who is watching. The good thing was that I actually had a really clear idea of what I wanted and, of course, the professionalism of our video person was absolutely incredible – that is what a truly authentic Italian talent can produce. 🙂
5) What is the key message you want to communicate to people with the video?
That Fattoria di Montemaggio is a place of magic, where time stops and you can be a kid again. A place where you can enjoy the moment, a sip of wine or two with family and friends and let the whole world go by 🙂 (And, if you get a couple of bottles shipped home – you can have the memory of it all once again in your kitchen, wherever that might be :))
Enjoy our video with a glass of wine from Fattoria di Montemaggio
Sit back with a glass of wine, preferably from Fattoria di Montemaggio ;-), watch the video and let your imagination flow.
Please gives us your feedback in a comment. We want to hear from you!